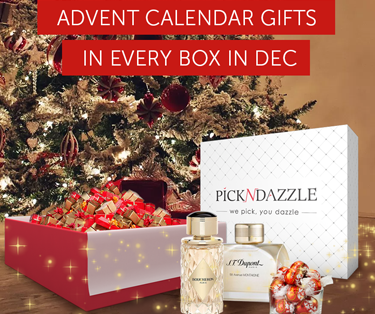 Pick N Dazzle Advent Calendar
Christmas time, GIFTS' time! Let's pamper ourselves and our dearest. This Christmas we are happy to surprise you with more gifts in your favorite RED box.
Posted on 12/6/2018 2:18:38 PM
Christmas time, GIFTS' time!
Let's pamper ourselves and our dearest.
This Christmas we are happy to surprise you with more gifts in your favorite RED box.
We are glad to make you happy together with other favorite brands that you like:
ELEMIS, BS COSMETICS, LINDT, MOROCCANOIL, COCOSOLIS and more,
to present you the Pick N Dazzle ADVENT CALENDAR.
How it works?
We are adding Christmas Gifts from Pick N Dazzle and our partnering brands in every box, from new or existing subscriptions, different gifts every day through the month of December.
Find out more about the gifts of the day in the social networks, Instagram and Facebook.
If you missed it, we show here some of the gifts:
LINDT LINDOR TRIO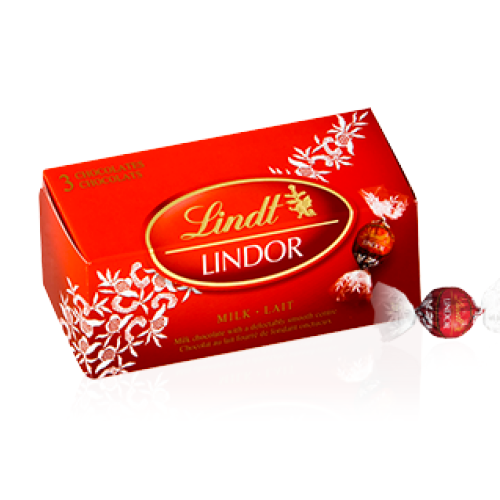 What is a Christmas without sweets!
This incredible Swiss chocolate of the highest quality melts in your mouth and will melt all your senses as well.
You'll find it in every box in December. Only the best quality for Pick N Dazzle customers ...
Enjoy it!
BOUCHERON PLACE VENDOME EDP mini or S.T.DUPONT 58 AVENUE MONTAIGNE EDP mini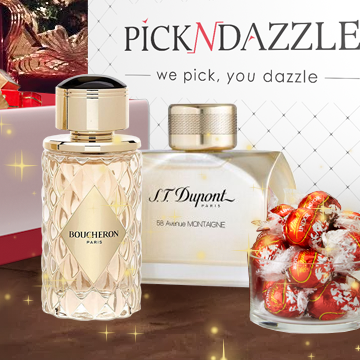 Christmas, chocolate and a perfume .... Sounds good, right!
We chose two French perfumes, in miniature, to touch the finesse of French perfumes and pamper ourselves with a luxurious scent for the Christmas party.
In each subscription box in December you will find one of the two exciting aromas, a gift from Pick N Dazzle.
ELEMIS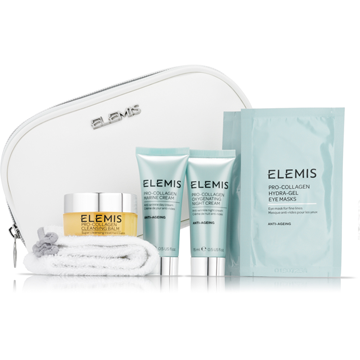 Elemis is the UK's number one brand for skin care. Top quality cosmetics, already available in Bulgaria.
Now Pick N Dazzle customers have the opportunity to test and pleasure the high quality of the products from the Pro-Collagen series, as we present you the
Pro-Collagen Oxygenating Night Cream 15 ml and
Pro-Collagen Marine Cream 15ml
as gifts in our December boxes.
These products act as wrinkle smoothing and help skin regeneration, day care and night care.
Tighten, smooth and hydrate the skin.
You will also have the opportunity to try out other products from the brand with the following sachets:
Elemis Energise Your Skin Biotec Skin Energising System,
Elemis Pro-collagen Clinically Proven,
Elemis Dynamic Resurfacing Night cream,
Elemis Herbal Lavender Repair Mask and
Elemis Pro-Radiance Cream Cleanser
Find more about Elemis products and where to find them, HERE.
BS COSMETICS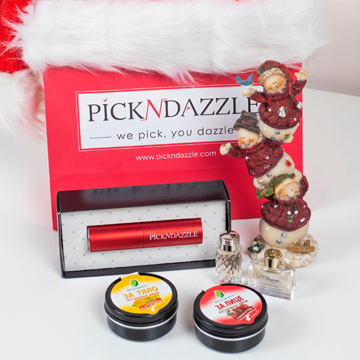 BS COSMETICS is a Bulgarian cosmetic company for natural skin care products. All products contain natural only ingredients and are packed in aluminum, environment friendly packaging.
BS COSMETICS products are always created with care for both customer and nature!
In December, you will find in Pick N Dazzle boxes the full-size products:
Natural face cream with Punica Granatum Seed Oil /pomegranate/ (50 g)
The combination of Persea gratissima Oil, vitamin E and Punica Granatum Seed Oil helps hydrating the face skin. The cream nourishes your face with a wave of freshness.
Natural body cream with calendula and Hypericum (50 g)
The combination of Juglans Regia Seed Oil, Calendula Officinalis Flower Extract, Hypericum Perforatum Flower Extract contributes to the elasticity of the skin and its tightness.
You can learn more about BS Cosmetics products here.
COCOSOLIS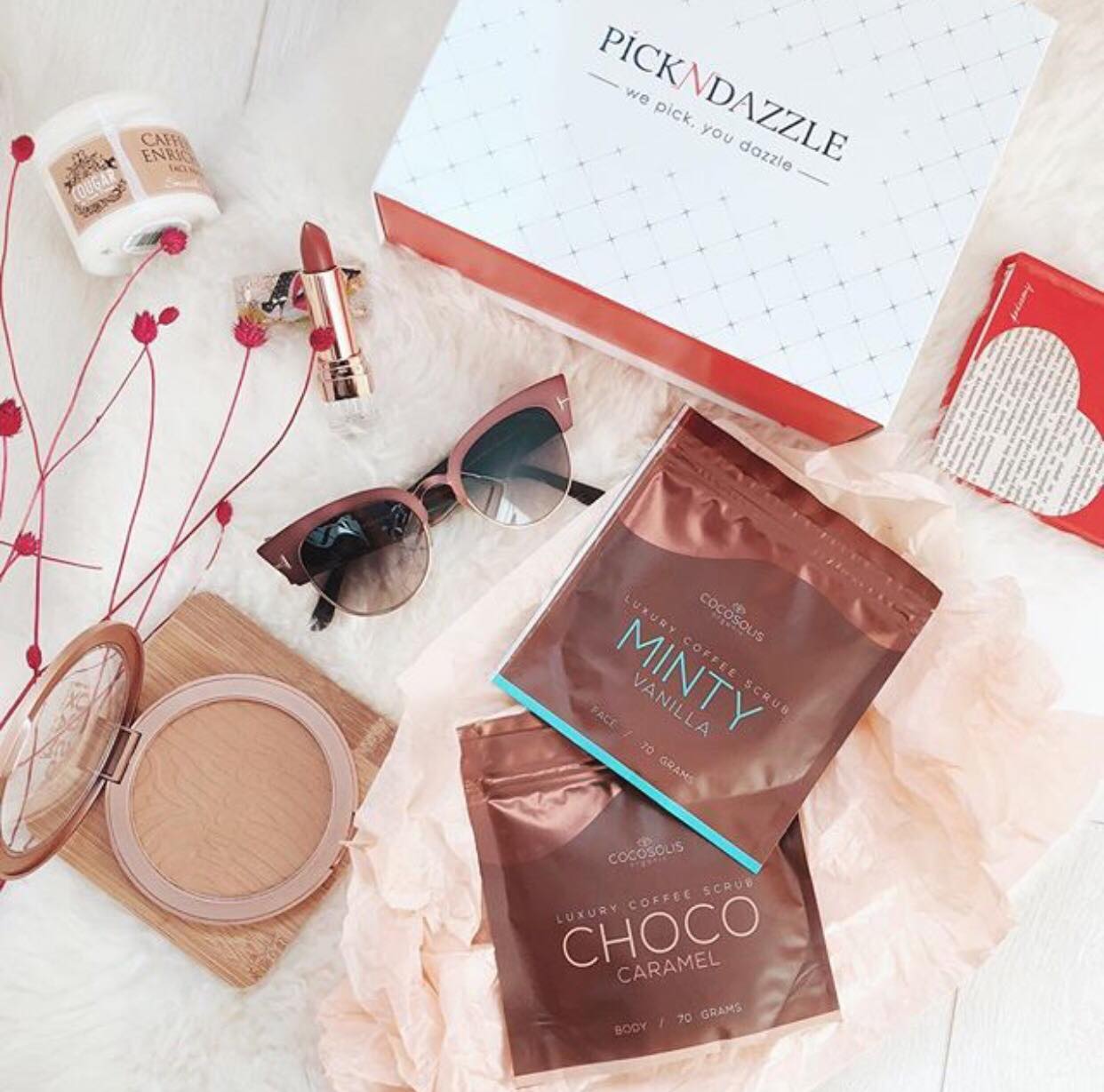 Cocosolis has become a highly recognizable and desired brand in Europe. And this is not only because of the organic and natural ingredients of the products, the luxury packaging and the high quality.
The brand is also emotional, seductive and fascinating! The brand pays attention on every single detail of the products offering full and incredible delight for our senses.
In pursuit of pleasure and joy, Cocosolis offers to Pick N Dazzle customers a full-sized coffee scrub as gift in every box on one of December's days. Which day would that be?
Keep an eye and do not miss to order your subscription box on this day!
MOROCCANOIL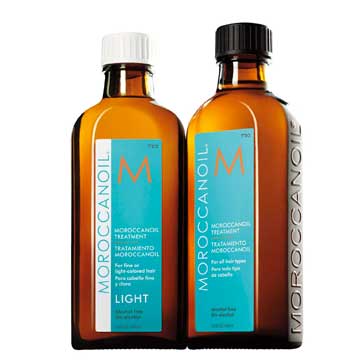 A Wow Surprise is waiting for you on one of our ADVENT CALENDAR days - the chance to get a 10ml version of the cult
MOROCCANOIL TREATMENT ORIGINAL or
MOROCCANOIL TREATMENT LIGHT
from TopLine.
A therapy with Argan oil Moroccanoil Treatment
Moroccanoil Treatment has the ability to help restore and revive hair damaged by chemicals found in shampoos and hair dyes as well as from the environmental factors.
The preserved original formula is an innovator in the hair care, comes in the form of butter, and now available also in Light version.
Both products are formulated without alcohol and can be easily absorbed by wet or dry hair.
These are only few of the surprises in our colorful ADVENT CALENDAR, full with gifts every day!
Follow our posts and make sure you grab some of these gifts by ordering your personal cosmetics box in the days through the December. Many presents and surprises are waiting for you!