---
About the brand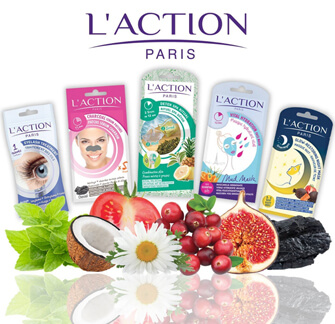 L'Action: the answer to all our vanity and beauty woes. Hailing from Paris, the beauty brand has got all your beauty fixes under one roof. From ridding eye bags, to inducing luminous fair skin, to even nail treatment. L'Action provides fast, effective and accessible beauty solutions in a convenient format. In addition to the brand's practical approach to beauty problems, all L'Action products are dermatologically tested, providing safety and assurance for its users.
L'Action Paris also offers wide range of Spa-Time Face Masks.
The classic facial masks range is easy to transport and responds to the problems of every type of skin. Classic masks give you perfect skin in 12 minutes.
Voyage masks - an invitation to travel to distant lands. The best of the ingredients of these lands to create a unique care!
Rituals - A two-step ritual : a scrub and a facial mask to take care of yourself in 12 min !
The brand has already proven highly successful in 30 countries all over the world. In addition to their high standards and fast results, the products are small, easy to carry and easy to use any time throughout the day. The line includes a full set of one time use products. The light, modern design of L'Action packaging clearly displays each product's function, recognizable by the fans in a few split seconds.