---
About the brand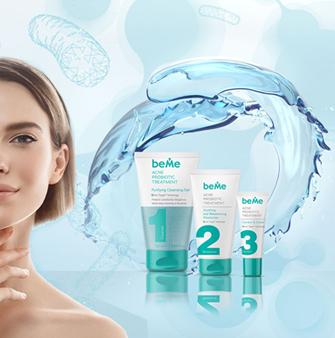 The power of Probiotics against Acne. Ground-breaking Probiotics
Our products are designed to the highest level of performance, efficacy – and yet we have not compromised on YOUR health
Probiotics have been proven to increase collagen and protein production, as well as improve oxygen intake. This means more sufficient cell renewal and skin healing.
As innovate probiotic skincare product BeMe contain The well-known probiotic Lactobacillus Bulgaricus and work on the skin's surface microbiome. These are natural antibiotics, capable of killing germs that contribute to acne and infections.
Everyone understands the need to keep our digestive systems balanced and filled with healthy bacteria. Our skin is covered in bad and good bacteria as well. The greater the balance of beneficial bacterial on the skin, the stronger its barrier will be, and the less inflammation you'll experience. The healthy bacteria are responsible for maintaining the pH balance and keeping skin supple and healthy.
Probiotics are critical for the skin's microbiome. Probiotics are natural antibiotics, capable of killing harmful bacteria that contribute to acne and infections. They work to keep the pH balance lower so that unhealthy bacteria cannot take hold and colonize. Our innovate skincare products contain the probiotic Lactobacillus Bulgaricus. It is well known for its antiseptic and antimicrobial properties.