---
About the brand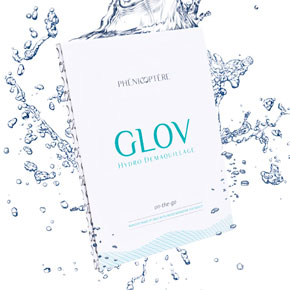 GLOV is a patented cosmetic textile accessory, which removes even strong make-up and mascara just with water. The tissue has been design in nano and micro technology, which means GLOV fibers are 100 times thinner than a human hair and 30 times thinner than a cotton pad fiber. GLOV accessories are extremely soft and delicate for a human complexion and do not cause any irritations. Products have been tested in a dermatological laboratory, which proved its safety towards allergic, sensitive and atopic skin.
GLOV has certain characteristics, which guarantee successful deeply cleansed skin. GLOV fibers in opposite to cotton pad fibers have a star shape and electrostatic abilities. To perfectly remove eye make-up we just have to stick wet GLOV on an eye, keep it for few second in one place and with delicate moves up-down/left-right wipe the remaining impurities.
Electrostatic abilities will grab make-up like a magnet. Our skin is perfectly clean, as micro and nano fibers go into a microstructure of a human complexion. That way our skin is prepared to absorb way much more efficiently other skin care cosmetics. At the end of each usage all you need to remember is to wash it in hands with a simple bar soap, dry it and next day use it again!