---
About the brand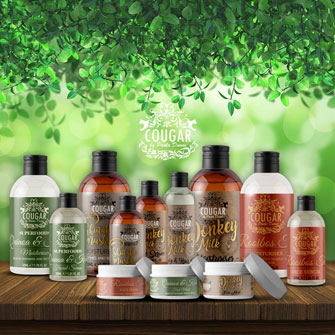 Cougar Natural Range was launched in the summer of 2018. A variety of skin care products with Super Foods, Donkey Milk, Quinoa and more.
Quinoa and Kale are bursting with powerful antioxidants and vitamins which have amazing skin care benefits.

Quinoa contains high levels of vitamin E that neutralize the oxidant effect of free radicals—molecules that damage collagen—from sun and pollution exposure. Amino acids and peptides found in Quinoa get into the dermis [deeper skin] and can trick the body into thinking collagen is broken, and stimulate it to create new, healthy, young collagen.
Donkey milk has been used and praised for thousands of years as a great health and cosmetic ingredient, the longevity of the world's oldest woman, Maria Esther de Capovilla from Ecuador, was put firmly down to the wonders of donkey's milk. The milk has 60 time the vitamin C content as cow's milk as well as containing vitamins A, D and E, and is a rich source of calcium and phosphorous.