---
About the brand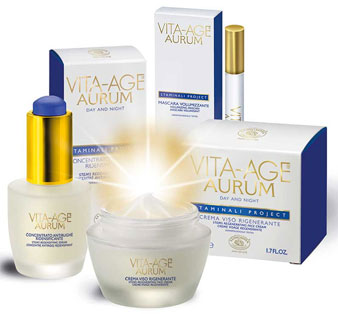 VITA AGE AURUM is a high end and innovative product line of Bottega di Lungavita. The Vita Age® Aurum line combines natural raw materials with innovative technologies for an immediate anti-age action.
The Leontopodium Alpinum stem cells act on face and body inducing the skin self-repair and together with collagen, hyaluronic acid and elastin, make the skin soft, hydrated, with an instant filler effect. In addiction, vegetable ceramides and vitamins improve the hydration and counteract the formation of new wrinkles.
The company was born and raised in the heart of the Italian Alps, in the town of San Pellegrino Terme.
Bottega di Lungavita, a modern expression of the 'Made in Italy' philosophy, creates remedies for everyday wellness by cleverly combining age-old traditions with scientific innovation. The Italian lifestyle is a philosophy that places physical and mental health at the centre, providing the company with efficient recipes that have been proven with time.
The preparation techniques for Bottega di Lungavita products meet the highest international production standards and all requirements imposed by the law and by the markets.
Strict physical, chemical and microbiological testing and the use of excellent quality raw materials enable the production of highly qualified natural dietary supplements and cosmetic products, while respecting the environment and the surrounding area.