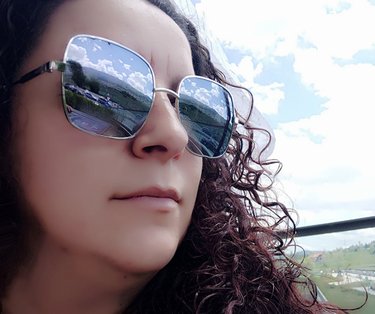 If you know Pick N Dazzle, you already know Ralitsa
Ralitsa creates the site's design and content, and she maintains the Bulgarian social media channels. If you have chatted with Pick N Dazzle on Facebook or Instagram, you may have already met her.
Posted on 11/17/2019 3:16:31 PM
When Ralitsa Lukanova chats with Pick N Dazzle customers online, she speaks from experience.
"I can offer a personal opinion about most of our products," she says.
"It's company policy that everyone who works at Pick N Dazzle has access to the products," Ralitsa says. All of us on the team receive personal beauty boxes.
"It's hard to be passionate about what you offer people, as I think you should be, if you haven't seen or tried it yourself. I can say that I know Pick N Dazzle's products. Like all our clients, I'm super happy with them."
Ralitsa gives good advice. During the interview for this article, I mentioned that I hadn't yet tried contouring. Ralitsa immediately recommended Miss Cop's palette with contouring powders and highlighters – it's perfect for beginners, as you can experiment with different shades and find what suits you.
"It's one of my favorite products," Ralitsa said.
Ralitsa also shared advice about organic skincare, which is my favorite thing ever. She likes the French brand Abellie, as well as Naobay's Organic Detox line.
"They have amazing products, with over 99% natural ingredients – which is like, wow, for the skincare market in general."
Thanks, Ralitsa – now I know what I want in my next box.
It's Pick N Dazzle's mission to act like your best friend who finds the perfect products for you. And Ralitsa does exactly that.
Rali has deep knowledge of our constantly changing range of products, as she is responsible for the website's design, maintenance, and content. Each month, she introduces new brands with dozens of products, and she follows the newest trends.
"The brands that we work with are constantly updating their portfolios, and they have new collections coming up each season. We do not offer old collections. Our goal is to give our customers the very best of each brand. Therefore, we always have different products according to the season."
How can you take advantage of Ralitsa's knowledge and experience?
If you're subscribed to our newsletter, then you are receiving her emails with tips on new products and offers.
You may have already spoken with her, as she answers questions on Pick N Dazzle's Bulgarian Facebook and Instagram pages every day.
A large number of customers contact us all the time, and Ralitsa provides information about products, prices, and anything else they may be curious about.
"We strive to keep it real," Ralitsa said. "Communicating with customers is a top priority for us. That is a crucial part of the job. All the time, each day, we send detailed answers to everyone. That's very important because, if our customers aren't happy, then what are we doing, in the end?"
Ralitsa appreciates that "at this company, each person has the fantastic opportunity to unleash their imagination." She does it with the site's design, with the images and text she creates, and with the personal touch she uses when writing to customers.
Ralitsa has always dreamed of doing something creative. She has a master's degree in IT, but her first job was not as a programmer – rather, she worked at a magazine, where she rose to deputy chief editor.
At Pick N Dazzle, Ralitsa uses both her IT savvy and her passion for design and writing. In addition to writing the brand and product pages and the newsletters, she also posts on social media daily.
"That's the most interesting thing that I do. I realize that I need to create a message, whether with words or images, which will reach thousands of people across different countries. I feel I really need to give it my all."
With social media, content creation, designing the site, and updating the product range, Ralitsa is doing several jobs at once. That way, she develops her various talents, and she gets satisfaction when she hears from satisfied clients.
"I feel like I've always been doing this – perhaps because it's what I've wanted. When you do what you enjoy and love, it just works, you know."