3 Power Snacks to Get you Through Tough Days
Treat your body to healthy, nutritious food that will not only get you through a long afternoon but will provide you with protein, fiber, and vitamins.
Posted on 04/10/2019 10:27:10
We at Pick N Dazzle believe that our bodies deserve respect, love, and nourishment.

Our philosophy is improvement through self-care and getting what you need and brings you joy.
This includes treating your body to healthy, nutritious food that will not only get you through a long afternoon but will provide you with protein, fiber, and vitamins.
You want the best cosmetics for your skin – you also deserve quality nourishment for your body.
1. Apple and peanuts
You don't need things like goji berry or maca to make an amazing meal. An apple plus a handful peanuts is a simple, powerful snack with maximum nutritional value for minimum effort.
Cut an apple into slices. Place apple slices and peanuts into a box, jar, or other container of your choice. You're good to go.
This delicious duo is sweet, salty, juicy, and crunchy. Peanuts have lots of protein and, like the apple, they're packed with fiber. That means they will satiate you for longer.
The apple gives you a generous amount of good-for-you sweetness. The natural fiber in the fruit means that the sugar is absorbed more slowly, giving you lasting power rather than a brief high followed by a crash.
You can find these healthy, minimally processed foods anywhere – do not underestimate them.

Apple + peanuts wins our Oscar for the best snack ever.
2. Hummus and carrot sticks
The classic carrot + hummus combo also deserves your attention and some space in your purse.
Hummus is savory, aromatic, creamy, and spicy. It's made of protein-rich chickpeas and healthy fats – olive and sesame oil. Fat-rich foods make a meal delicious and satisfying, and we are all for it.
Combine this Middle Eastern delicacy with carrot slices, which you can make yourself for about 30 seconds in the morning. The carrot's crunch complements the thick, rich hummus.

You'll be looking forward to this snack all day.
3. Yogurt with real berries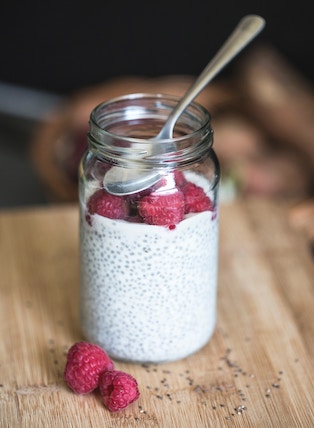 ​Ready-made fruit yogurt may be a healthier option than, say, a donut when you're looking for an energizing snack. Still, it is filled with added sugar, and sometimes even artificial flavors. You deserve better than this!
The winning alternative is, of course, making fruity yogurt yourself. You can buy frozen berries in bulk from the supermarket – they're cheaper and easier to use. Add a handful to the bottom of a jar and fill it up with yogurt. You can use plant-based yogurt, if you prefer.
You can finish with your favourite toppings, like cinnamon, cocoa powder, crushed nuts, oatmeal, flaxseed…
In under a minute, you've made yourself a beautiful yogurt parfait that is tastier and healthier than the store-bought version. Cheers to your health!
Your snacking routine is as important as your beauty routine – it's as simple as that. With these power snacks, you'll feel so much better than with an afternoon coffee and donut. You can come back and thank us later!
Beauty products matter, too. Let the experts at Pick N Dazzle select the best beauty products for you so you always go out the door prepped and ready.