Plastic forks, paper plates, plastic cups. If you eat or work at an office, you're probably tired of throwing out plastic after every lunch and eating things that not only sabotage your diet, but your health.
Mason jars salads are the perfect way to pack healthy, leafy green lunches every day. The jars offer built in portion control, which is a critical part of weight loss and weight maintenance.
A salad in a jar is a genius way to transport dressing to the office without spilling it all over your bag. Mason jar salads also keep greens from getting soggy. The key is in how you layer your ingredients. The dressing should always go in first. Grains and protein like quinoa or chicken should go in next. Put your delicate greens and veggies in last so they don't get drenched in dressing.
Now that know how to build the perfect mason jar salad, here are nine healthy, must-try salad in a jar recipes. From mason jar salads to other easy, healthy mason jar meals (in case you aren't a lettuce person), these gorgeous, delicious, easy recipes will inspire some serious lunchtime envy.
Burrito Mason Jar Salad
Fact: Burritos are delicious. Another fact: They aren't exactly good for your waistline, thanks to giant tortillas and toppings like sour cream and cheese. This slimmed-down (but still delicious) burrito bowl salad in a jar recipe will satisfy your cravings without sendingyou into a post-lunch food coma.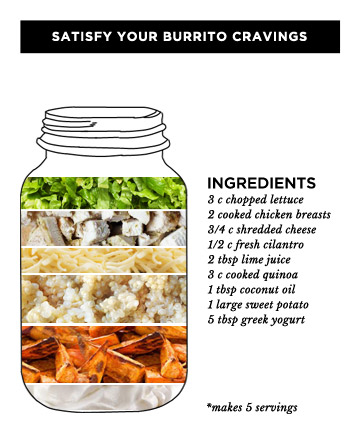 Simple Mason Jar Salad
This hearty salad by Eat Within Your Means has plenty of protein and healthy fats, thanks to walnuts (rich in omega-3s) and a dressing made with almond butter.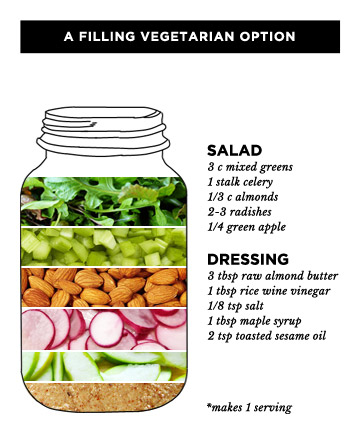 Chicken and Orzo Mason Jar Salad
Give extra zip to this mason jar salad with creamy, Greek yogurt dressing. The addition of orange zest and balsamic make it ultra flavorful and spruce up a tired chicken-and-orzo dish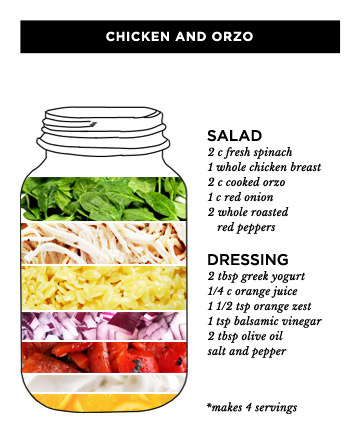 Paleo Mason Jar Salad
This mason jar salad from Eat Drink Paleo combines them with chili flakes and lime for a zesty, mildly spice salad in a jar that's sure to keep you satisfied until the workday is over.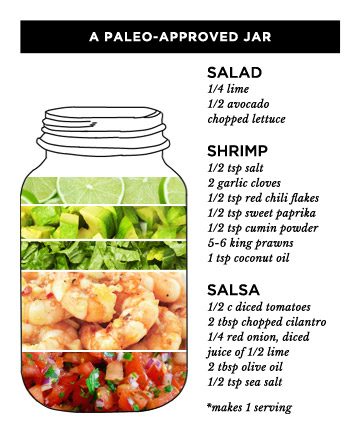 Chicken Salad in a Jar
We love chicken breast because it's a lean protein option, but if we're being honest, it's not the most flavorful choice. When combined with fresh salad ingredients, tossed in a mason jar and topped with balsamic, suddenly it becomes drool-worthy.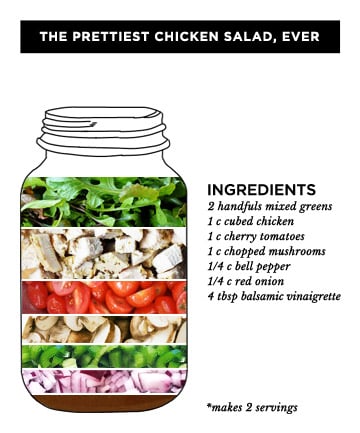 Want to get all the best tips and goodies for being your best self? Subscribe and we'll send you a box to always keep you looking your best!
Source: totalbeauty.com