STRAYING TOO FAR FROM YOUR NATURAL SHADE
The hair color you have is the one you're meant to have: It complements your skin tone and doesn't look artificial. When coloring your hair, you should aim to enhance and enrich your natural color and subtly conceal grays—not do a total 180. "Color within reason. If you're a dark brunette, don't stray too far from rich tones. If you're a warm blonde, keep to the golden hues that add depth. If you introduce a completely new color, your natural shade will fight it until it oxidizes and turns brassy orange. And that will make you look like an old woman overnight," says Louis Licari, a colorist and owner of hair salons in New York City and Beverly Hills.
Colorist Negin Zand of Salon Benjamin in West Hollywood says another thing that can make hair color look stark and fake is a dark hairline. "The fine hair there grabs onto the color and tends to get dark faster. I always use a color that's two shades lighter than the one I'm using for the back of the head at the hairline, from ear to ear. That keeps it from looking obviously dyed, and it's much more natural and youthful," she says.
GOING TOO DARK
We've all seen it—and maybe even had it: hair that's so dark and inky it looks almost blue, doesn't reflect light, and doesn't really even look like hair. Colorists refer to this as the "shoe polish" effect. "It can look opaque, which can showcase grays and regrowth," says Licari. "It will also sap life and color from your face." Licari recommends requesting a single-process and highlights that bring your natural hair color one shade lighter. "This will add dimension, disguise the grays, and still flatter your complexion," he says. If you're using an at-home hair-color kit, err on the lighter side: "Buy a box that's one shade lighter than the color you desire," says Zand. "Women coloring their own hair tend to leave the color on for too long, and it can get really dark. In order to fix that you'll have to go to a professional to have them strip the color out with bleach," she says. If you're set on dark hair, stay in the medium-to-dark chestnut range, recommends Nikki Ferrara, a colorist at the Marie Robinson salon in New York City.
GOING TOO LIGHT
The good side of going light: Golden, Jennifer Anistion-y highlights. "Buttery blonde hair is youthful," says Ferrara. The bad side? "Ashy, pale shades that are so light they almost look gray." Blondes walk a fine line between too warm and too cool—the trick is finding the just right Goldilocks middle ground of, well, gold locks. "A shade or two lighter [than your natural one] can be very flattering, especially because skin gets more sallow with age, and a few streaks can wake it up. But going too light can be just as aging as going too dark. If you have to put on more makeup to make your new color work, you've picked the wrong shade," says Licari. It's also important to maintain a certain level of contrast between your hair color and your skin tone: "Hair that's too light can make you look washed out, and you lose your depth," says Zand. "The darkest part should be where your roots are, and the ends should be lighter, like children's hair. Natural hair color is never one color all over."
COLORING FRIED HAIR
What's more aging than having gray hair? Having thin, damaged, fried hair. "If hair feels like cotton candy already, the next step after coloring it is that it's just going to break off," says Zand. As you age, hair becomes weaker and less resilient, so it doesn't bounce back as easily from damage. The best thing to do is just let it be: "Do a protein treatment for a
few weeks until the hair has a little bit more strength," says Zand. "And then when you do decide to go lighter, if you think your hair can take it, bleach it in stages, since that's less harsh."
GETTING CONSPICUOUS HIGHLIGHTS
Multidimensional color equals youthful color. Zebra streaks? Not so much. "Stripy highlights can look tacky," says Zand. "The point of highlights is to look like you were kissed by the sun. If you get into that territory where it's too light and has a frosty look, it can be very aging." Instead, ask your colorist to add a few lighter sections near your face. The balayage technique, where a colorist free-form paints the color onto hair without the use of foils, can also help to prevent choppy, obvious highlights.
USING THE WRONG STYLING PRODUCTS
Alcohol-based products can dry out hair and cause color to fade faster. "It's difficult to avoid. Some products, like hair spray, are always going to have alcohol. But if you can find other, nondrying options, that's definitely preferable," says Zand. She also recommends spritzing on a leave-in conditioner like to help hydrate and protect hair.
WASHING YOUR HAIR TOO OFTEN
We always appreciate a good lazy beauty tip, so we're all for using dry shampoo over the sudsy stuff. (Just make sure to avoid one with a powdery finish.) "Every time you wash your hair, you're stripping out color and moisture," says Zand. "You lose the luster and shine as you get older, and overwashing can make it worse. Wash less: If you usually wash every day, go to every other day. You can train your hair," she explains. Her other in-shower tips for shiny, healthy-looking color? "Give your hair a cool rinse at the end [of your shower] for extra shine and get a showerhead filter if you can."
EXPERIMENTING WITH EXTREME HAIR COLOR
Unless your name is Katy Perry (or you're her younger sister), step away from bright blues, pinks, and purples? "As women age, their hair can become more fragile and feel drier because of hormonal changes. Extreme colors usually require putting lightener on hair and then depositing the color over it, and that can be really taxing on the hair," says Ferrara. And then there's the fact that it's not exactly easy to pull off. "It's not really flattering or graceful for anyone over the age of 40, unless, maybe, they're a performer or entertainer," she adds. A wig-y hair color is also kind of like a big, flashing neon sign that says you're trying too hard.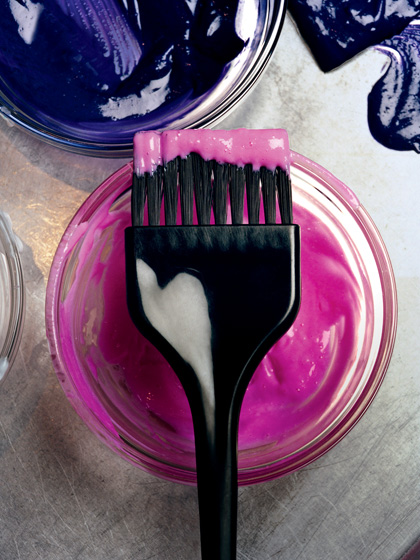 Source: www.allure.com