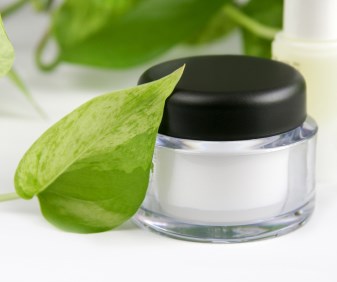 TO GO GREEN OR NOT TO GO GREEN
There's been a ton of buzz about organic makeup over the past few years, but the question still remains: How good is it really for you? With the help of our experts, we get to the bottom of things.
Posted on 5/17/2014 4:13:34 PM
Pro: You can wear it after any procedure
While many plastic surgeons, dermatologists and skin care experts frown upon wearing makeup immediately after or up to many days post therapy (depending upon the treatment) Kim Laudati of Kim Laudati Skin Care and Lasers in Manhattan has yet to personally find one that is opposed to the use of organic makeup in the same time frame.
Con: Organic makeup isn't waterproof
Unfortunately, no cosmetic product that is certified organic for purity will ever be waterproof or water resistant, says Kim. "Although my love of my Phyts black liquid liner runs deep (sooo easy to use and doesn't cake off like all of the top and most recognizable name brands do) and my Phyts mascara makes my lashes long, I do have to carry them with me due to lack of water resistance. The eyeliner stays put if your eyelids tend toward greasiness later in the day and does well enough in fog but the mascara and eyeliner will wash off in the rain. The mascara doesn't hold up well in thick fog either."
Pro: It's widely available (and more affordable than ever)
Organic makeup has become more widely available in the past few years and the quality can be amazing, notes therapist and health/wellness expert Jenny Giblin. "High-end organic makeup lines can now be found at Sephora, while even stores like Target sell affordable everyday products."
Con: No preservatives
If a product is truly made up of 'all certified-organic ingredients,' then it doesn't contain the robust preservatives that have been developed over decades to keep bacteria and other contaminants from setting up shop in your makeup bottle, points out board certified dermatologist and founder of Art of Dermatology Dr. Jessica Krant. "These well-understood preservatives ensure your makeup mixes smoothly and lasts longer. There are some 'natural preservatives' that do help, but they just don't work as well."
Pro: It doesn't contain endocrine disruptors
Essentially, endocrine disruptors are man-made chemicals, which mimic, change or thwart hormone production or the system carrying them. Unfortunately, many of these endocrine disruptors are found in regular makeup and can be linked to mood swings, hormonal imbalances, fertility issues and even cancer, according to Jenny. "Check the label and be wary of anything containing phthalates, perfluorinated chemicals: Teflon, Gore-Tex, PFOS, PFOA, parabens or sodium lauryl sulfates (SLS)."
Con: Not as many color options
While organic makeup gives many of my clients a sense of relief knowing that the ingredients aren't hazardous to their health or toxic, the flip side is that most brands of organic makeup don't contain synthetic dyes or colorants, explains Los Angeles makeup artist and founder of SkinOwl Annie Tevelin. "Thus, the array of colors is sometimes a bit limited."
Pro: It's good for the environment
Makiko Braxton, beauty expert and spa director at The MODERN Honolulu, says organic makeup is generally more nutrient rich and tends to contain more vitamins, minerals and antioxidants. "Many consumers that are fans of its true environmental benefits look at using organic products as a way of cutting down the amount of pollutants that can enter the body."
Con: It's not safe for everyone
There is definitely a misconception that natural or organic means safe and meant for everyone. "Believe it or not, natural and organic ingredients are some of the strongest on the market," warns Braxton. "Some skin, especially sensitive skin types, can react badly to these ingredients."
Source: www.sheknows.com