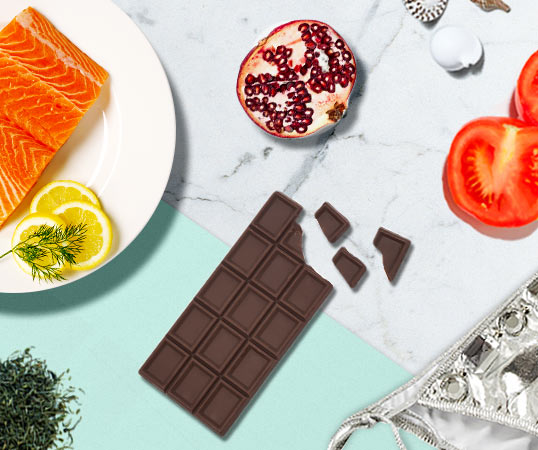 The Foods That Help Protect You Against the Sun
According to Dr. Macrene Alexiades-Armenakas and various research certain foods when ingested and extracts applied topically could potentially provide you with nutrients...
Posted on 7/7/2019 10:26:31 PM
That's not to say that any of these should ever replace SPF or be eaten in excess, they may just have added benefits to your overall well-being and could be used in further preventative practice. In general, Dr. Macrene says that you should eat a variety of foods throughout the week and switch up the types of produce you're eating. "Look back at the prior week and vary the vegetables the following week so that you do not run low on any key nutrients," she notes.
Now, on to those foods…
Dark Chocolate
You may have already heard that dark chocolate is the healthier choice due to the concentration of antioxidants in it. As a rule, antioxidants help defend your skin from free radicals, sun damage, and those potentially detrimental substances found in pollution. Turns out, ingesting it might be a good option to boost your body from protecting itself from the sun. "Dark chocolate is full of flavonoids, another class of polyphenols with antioxidant and anti-aging properties," says Dr. Macrene. "Several thousand molecules having a polyphenol structure have been identified in plants being generally involved in defense against UV radiation."
Pomegranates
Remember when pomegranates really stole the spotlight? Turns out, it was for a good reason. "Pomegranates contain the most potent antioxidants of any foods I have come across, and therefore serve to scavenge free radical attacks in exposed skin cells," notes Dr. Macrene.
Salmon
The reason this fish is reportedly beneficial for sun protection lies in its ample levels of vitamin D. Dr. Macrene explains that vitamin D "protects human skin cells from UV-induced cell death. Several in vitro and in vivo studies have documented the protective effect of 1,25(OH)2D3 [the active form of vitamin D] against UVB-induced skin damage and carcinogenesis," she explains.
Green Tea
Containing antioxidants, this beverage may have sun protecting nutrients infused in it, too. Dr. Macrene references a study, "Green Tea Polyphenolic Antioxidants and Skin Photoprotection" by Katiyar SK and Elmets CA, in
which the green tea polyphenolic antioxidants found in green tea are discussed as potentially having an ability to protect against free radical attack.
The study found that two UV-induced conditions were prevented in mice when they were fed with green tea polyphenols. However, the study notes that the protective actions of green tea against "UV light-induced inflammatory or carcinogenic responses" on human skin are little tested and are not completely understood—and that's important to note!
Other studies have found that when ingested or applied orally, this substance could perhaps prevent UV-induced inflammatory responses.
"When you ingest antioxidants such as green tea, they are distributed throughout the body. They serve to protect all your tissues and organs from the DNA damage from toxins," explains Dr. Macrene. All in all, we know that green tea does have certain health benefits that can't be denied. You may also have seen it listed in your skin care products—specifically lotions—touting cooling benefits.
Tomatoes
Dr. Macrene explains that tomatoes hold lycopene within them and that this carotenoid increases collagen levels in your skin. Not bad for anti-aging right? Well, this substance could also play a part in sun protection. Dr. Macrene references an article entitled, "Lycopene-rish Products and Dietary Photoprotection" that explains how carotenoids can prevent against UV damage and provide photoprotection. The study found that after 10-12 weeks, sensitivity of UV-induced erythema, or reddening of the skin, was reduced.
Food Extracts in Topical Products
Dr. Macrene says that food extracts providing protection benefits to your skin is the basis of her skin care line, 37 actives. She notes that coffee seed, cacao, green tea, yerba mate tea, resveratrol, feverfew, chamomile, pomegranate, mint, aloe, olive leaf, bark, and mushroom are a few but there are over 62 actives they have included.
Source: www.stylecaster.com