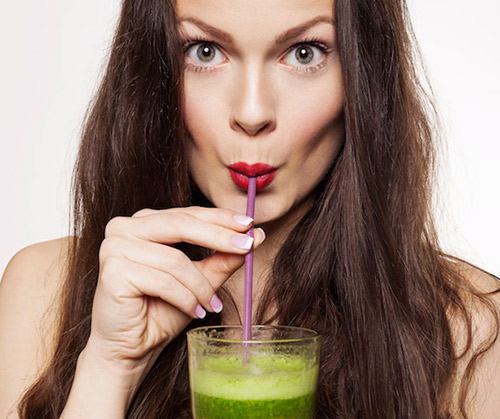 Bye Bye Toxins or how To Give Yourself A Beauty Detox
Since summer is the easiest time to do a full-on detox, we called on some of our favorite experts to help you expel those bad-for-you items and leave you with a gorgeous glow. Prepare to hit "reset" on your beauty regimen!
Posted on 7/9/2014 7:40:45 PM
The Expert: Joanna Vargas, Celebrity Facialist and Founder of Joanna Vargas Salon and Skincare Collection
"I always recommend that clients keep their skin clear and detoxed by what they eat and drink. I find that the best skin diet is one that involves eating veggies of different colors for every meal and sipping a green juice every day. There is really no substitute and it works for everyone!
If I have a client who doesn't eat salad or drink green juices, I direct them to buy liquid chlorophyll. It tastes like mint, and it oxygenates and cleans the skin. You can also try making a detox facial mask at home by mixing one mashed ruby red grapefruit with cooled, cooked oatmeal and a cup of milk.
The Expert: Corey Powell, Colorist at Sally Hershberger Los Angeles
"You can tell your hair is toxic because it lacks elasticity: it's brittle, lacks flexibility, and just doesn't bend as easily (or at all.) In order to detox your hair, you'll want to remove the residues and toxins that are causing distress. There are certain shampoos that are great for that. Also, if you want to go the natural route, create a detoxifying hair treatment at home by mixing equal parts lemon and aloe vera and smooth it on your hair before you shampoo. It helps to alkalize your hair, to reset it. Oil treatments once a week are absolutely vital; they help force toxins out of your hair and replace it with nourishment.
The Expert: Nadine Abramcyk, co-founder of the NYC-based nail salon and boutique, tenoverten.
"It is very important to pay attention to the ingredients in your nail polish. The three most dangerous chemicals are Formaldehyde, DBP and Toulene, all of which can have a dangerous effect. Formaldehyde is linked to cancer, DBP is unsafe for pregnant women, and Toulene can affect the central nervous system.
Nails need air, so avoid putting anything on the nail for at least a week after removing gels. Another tip is that nail hardeners and neon polish colors often use formaldehyde, so avoid those products when possible."
The Expert: Mimi Chen, yoga instructor at Jivamukti Yoga NYC
"If you ask any yoga instructor, they'll tell you that the best ways to release toxins is through seated twists (Seated Spinal Twists, Side Crow) and standing twists (like Eagle pose.) These are all important because they stoke the digestive fire and compress the midsection, so it helps to literally "squeeze you out." I'd also add seated forward folds, where you're reaching for your toes and lengthening the spine, like in Cobbler's pose, and inversions. Going upside down really shakes things up and helps to purify the mind and body."
Source: www.beautyhigh.com