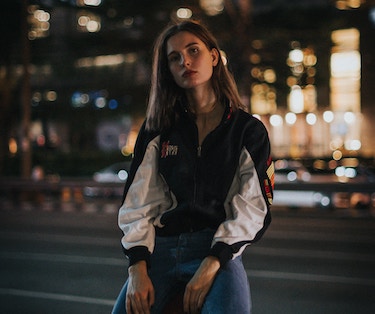 How to rock 90s style this winter
What was uncool is cool again. Here's how to embrace the 'mom jeans' and 'ugly' shoes and be bang on the 90s trend this winter.
Posted on 12/1/2019 7:36:41 PM
What was uncool is cool again: the straight-leg jeans, choker necklaces, and twin braids of a few decades ago are the hot look of today. 90s style is at once edgy and comfortable, sporty and classy. Here's how to embrace the 'mom jeans' and 'ugly' shoes and be bang on the 90s trend this winter.
Jeans. We're not just talking 'boyfriend jeans' – more so the 90s 'mom jeans' with a straight leg and tall waist. For maximum impact, choose a light-blue, washed-out pair made from sturdy, no-stretch fabric. To make these 'uncool' jeans look modern, choose a cut that's well above the ankles and roll them up some more.
That way, you'll draw attention to your killer shoes!
Trainers. The bigger, the better. They should have a tall, wide platform, at least 4 cm in height, and a dynamic profile. Go for snow-white, or a multicolored shoe with bright accents. The tall rubber sole will keep you comfortable even when the concrete reaches below-zero temperatures.
If you don't want to wear sneakers everywhere (though we don't see why not), go for the other key 90s trend: the square heel. Shoes or boots with a shapely heel and a square toe will take your 'mom jeans' to style heaven.
Coat. Nothing shows off your fashion cred like pairing sneakers with a tailored wool coat. The color should be beige or black.
On days when the cold isn't unbearable, you can count on a sporty bomber jacket.
Hair. Layered cuts are a thing of the past. The new decade begins with clean, straight lines. The classic 90s look is a simple shoulder-length cut. To liven up the sharp silhouette, you can go for highlights.
Also, as you've surely noticed both online and off, braids are back. Girlish twin braids will make you look on top anywhere from the bar to the family Christmas party.
Accessories. Choose from the following: a choker necklace. Hoop earrings.
A tall beanie hat. A mini backpack. Oversized headphones.
Round sunglasses complement this look and will protect you on bright winter days when light is reflecting off of the snow.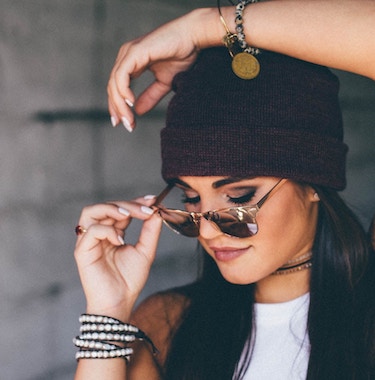 Lips. 90s lips are two things: brown or purple. Red and pink tones give way to richer, darker hues. Cocoa shades add sophistication to an otherwise sporty look. Warm burgundy and purplish brown also look great. Glossy or matte are both fine, so long as it's dark.
Brows. One 90s trend has not made a comeback, and will not anytime soon: thin eyebrows. For a decade, thick, full brows have been an object of worship and will continue to be so. Less plucking, more pomade!
Skin. Well before the 'dewy' and 'glassy' skin trends, the 90s were about full, matte coverage. Check out the photo on Destiny's Child's first album and you'll see what we mean: solid skin, dark lips.
A matte finish is perfect for winter, when skin is drier and anything but glossy, and the weather allows for heavier makeup. Feel free to add powder over your foundation: it will look flawless, and it will create an extra barrier against the cold.