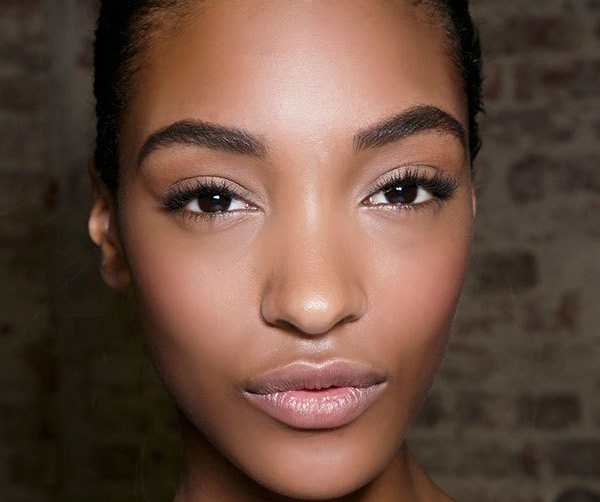 How to Get Runway-Worthy Eyebrows… Instantly
Want to get brows that rival those of Cara Delevingne? Yes, we all do. Well, fiber eyebrow builder kits—which actually build up your brows with magical hair-like product—are making a huge comeback, allowing anyone to achieve runway-worthy arches.
Posted on 4/20/2015 3:09:25 PM
"These kits can be a lot of fun for adding volume and getting a strong eyebrow finish," says makeup artist Tomy Rivero. While stencils can be a bit tricky to use—it might take a couple tries to get the look just right, especially if your brows don't match the shapes in the kit— a product with fibers will have a more intense effect that your typical pencil. "I think an ideal candidate for a fiber kit already has some shape and definition on their eyebrow and wants to intensify the look with a bolder, more 3D effect," he says.
Here's how to use one of these kits and create brows that truly wow.
1. Set your foundation.
Make sure your foundation is set (powdered is best) when you start using a kit to avoid the color from staining your face makeup and dragging when you try to clean it off, Rivero says.
2. Avoid getting dark fibers all over your face.
"Try tapping the brush in the bathroom sink to get rid off excess fibers sitting on the brush," Rivero says. "Also, have a big powder brush handy to whisk away any fibers if they fall onto your foundation."
3. Create a guideline using the stencil.
Now for creating those brows! Rivero says that if you have no guideline of where to start and where
to start and where you want the peak of your arch, use an eyeliner/eyebrow pencil close to your color and place a small dot at the arch and the beginning of where the stencil is. Remove the stencil and check in the mirror to see if this is a good placement, then proceed to follow the products instructions.
Mary Schook, brand ambassador for Cherry Blooms says you want to make sure to keep the edges light when filling in the stencil. (Good to know: the provided stencils in her product have a natural arch that will keep you from looking surprised or dated.)
4. Use a pencil to create the illusion of brow strokes.
"Dimension creates believability and that is important," Schook says. "Refer back to the stencil to guide you in case you're unsure of where to keep the strokes."
5. Finish with brow gel.
Schook suggests using a tinted brow gel to set unruly brows and to create that one last layer of dimension. "Gel is also a great way to either fuse or dilute any extra powder or pencil within your own brow hair," she adds.
Source: www.beautyhigh.com