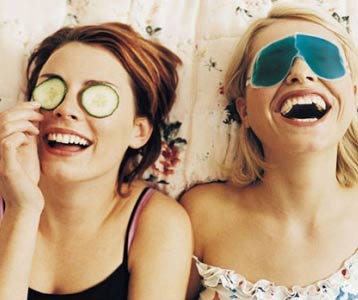 How to Do-It-Yourself a Spa-Level Facial
You think that a facial isn't really a facial unless you're laying down, having delicious creams spread all over your face, and listening to the sounds of a distant seashore? Well, you're wrong and we will prove it. Read below!
Posted on 10/6/2014 8:36:16 AM
According to Ling Chan, a facialist who has ministered to Gisele and Uma Thurman (and who owns two New York City spas and has her own skin-care line), you can really make your skin smoother, softer, and less irritable by recreating the professional experience at home. So this weekend, pour yourself a nice glass of cucumber water and follow these steps for some serious self-pampering.
No shortcuts. "For an at-home facial that yields truly professional results, you can't skip steps or skimp on products," says Chan. "Every true facial should include exfoliation, clay to cleanse the pores, and products that rehydrate and calm the skin."
Take off. Look for a gentle scrub or an enzyme peel to slough dead skin and de-gunk the pores. But don't rinse it off just yet!
Steam cleaning. Assuming you're not Mariah Carey and don't have a professional skin steamer on premises, just run a washcloth under really, really hot water, ring it out, and drape it over your face. Let the cloth sit for a few minutes. "The enzymes and steam will work together to really open the pores," says Chan.
Masked ball. "A clay mask cleanses the pores and removes impurities from skin," explains Chan. Let the mask set for 15 minutes, but don't let it get to that completely crumbly, mummified stage. Repeat the steaming washcloth routine from above to remove the clay.
Bare naked. "A hydrating mask after a clay mask allows for the moisturizing properties to better penetrate the skin, since all the impurities and debris have been thoroughly removed," says Chan. Rinse it off with cool water.
Ever upward. "After using a hydrating mask, I recommend sealing it in with a moisturizer," says Chan. Use your normal moisturizer, but take your time applying it—this is where the massage comes in. "The key to massaging the face is to keep moving the hands up, never down. You never wan to pull at the skin," she says.
No digging. Even if you really want to, ignore the urge to squeeze or pop your blemishes. "If you do an extraction yourself, you have a better chance of breaking out or even causing an infection," says Chan. "Even professionals have a hard time performing extractions on themselves because you can't see at the same angle on your own skin as you can on someone else's."
Looking for a product that simply works and suits your skin or hair type? The talented experts from Pick N Dazzle are working day and night to find just the right products for you and you only. Simply fill out your Beauty Profile and we will do the rest. By subscribing to our service, you get every month only the best products on the market, suited especially for you.