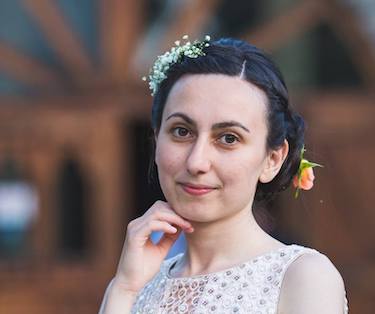 Meet our resident advice-giver, Ani
Our blogger, Ani Kodjabasheva, shares tips on not giving up, giving up when you need to, beauty, exercise, and finding your best self. (It's a process.)
Posted on 11/24/2019 11:30:00 PM
Hello, dear readers. It's me, Ani.
I'm the main voice behind Pick N Dazzle's blog, supplying you with weekly wisdom on beauty, wellness, relationships, health, and lifestyle.
Why should you listen to me?
After 29 years in a human, female body here on Earth, I have lots of experience. Like many of you, I have grappled with questions of beauty, personal style, and feeling good in my own skin. Over time, I've found some answers.
Like Pick N Dazzle's founder and CEO, Pavlina, I have lived in a number of different countries – not nearly as many as Pavlina, but still.
I've discovered how to eat healthy on a budget in New York, where to get a haircut in Berlin, and how to adapt my wardrobe to look professional in old-school Oxford.
In my decade in the United States, Germany, and the UK, I learned the hard way about health, food, exercise, relationships, and work-life balance. Here is just one story.
To deal with the stress of a demanding job, I started running – a passion that my colleagues Radost and Aniko share.
I've been on beautiful runs on forest trails Bavaria, in the hills surrounding Oxford, in parks in Berlin, and by the Hudson River on the edge of Manhattan.
The bad news: I overdid it. Pushing myself too far and ignoring pain and discomfort, I ended up with a knee injury.
This experience has made me think about the ways we modern women expect perfection and sometimes compromise our wellbeing for the sake of career, motherhood, or beauty.
The pain in my knee became a sign that I needed to change something. Nobody but me was pushing me towards extreme achievements. I needed to acknowledge my needs and put my health first.
I ended up changing a lot of things. I tried various approaches to dealing with the pain: walking, yoga, physical therapy, acupuncture.
Years of no improvement made me feel discouraged and broken. Until, eventually, something helped.
In the past ten months, I have been doing weightlifting with a trainer. Building up muscle has made a huge difference, and I have learned so much about what my body can do.
Being able to lift more than my own weight feels amazing. But I'm not going too far, too fast. I'm committed to a safe, gradual progress.
When you trust your body and treat it with care and respect, real progress can happen, I've found. Having support and someone to cheer you on helps a lot, too.
The good news: my knee is better. The discomfort isn't entirely gone, but I am able to move freely, and I don't have to worry about the pain with each step.
I'm physically stronger than I've ever been. And I can start running again. I can only do a minute at a time, for now, but that one minute feels glorious!
With some care and patience, by next summer, I should be jogging in Sofia's parks and on nearby mountain trails.
Like my colleague Aly, I would have been the last person in school anyone would expect to be giving beauty advice. I was a lanky, awkward kid, all I liked to do was read, and Hermione Granger was my hero (still is).
Along the way, graduate degrees in art history have taught me a lot about style and beauty. Whereas life has taught me about work, love, self-care, and all else.
If I, an awkward nerd, can learn to use makeup and do deadlifts at the gym, that's proof that anyone can learn anything with a little support and patience.
That's the goal of this blog: to inspire you to try something new and get a little better at it.
I'm excited to share what I've learned so far with our readers and to continue to learn from my super accomplished colleagues. See you on the blog soon!