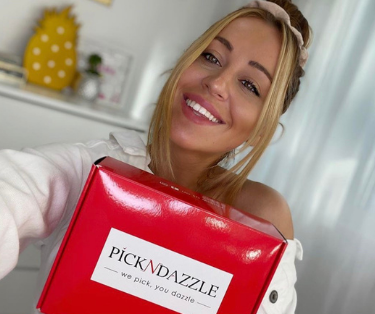 Nicoletta can't resist the monthly Pick N Dazzle box
She started timidly, with a 3-month subscription, at the beginning of the year, and ever since then she is inseparable with the fabulous red Pick N Dazzle box!
Posted on 10/19/2020 3:56:47 PM
She started timidly, with a 3-month subscription, at the beginning of the year, and ever since then she is inseparable with the fabulous red Pick N Dazzle box!
Today I will tell you more about Nicoletta, an ambitious young lady dedicated to her two most favourite things in the world – her child and the art she creates!
Nicoletta has a creative nature, she started her own business with handmade jewellery and accessories as soon as she finished high school, and today she is about to resume the work process after taking a short break with the appearance of the youngest member of the family.
Her face may be familiar to you from YouTube, where you will find her under the name "NJ and Family". Nicoletta created this channel two years ago in order to promote her brand. Well, it didn't take long before her audience started motivating her to shoot more often and more diverse videos. That's when she met Pick N Dazzle boxes for the first time.
"I posted a survey on Instagram and asked my audience which box they would recommend to me, as I had some hesitations. Lots of people offered Pick N Dazzle!"
Then she decides to study the whole site and its platform ." I read the complete information and instructions for filling out the beauty profile and ordered my first 3-month subscription. I haven't stopped ordering ever since. "
Nicoletta told me that she likes to choose her products alone. According to her, this is the best and most distinctive feature of Pick N Dazzle. "I chose this box because everyone has the option to select her products. I don't want to be overwhelmed with repetitive products or ones which I can find in drugstores. "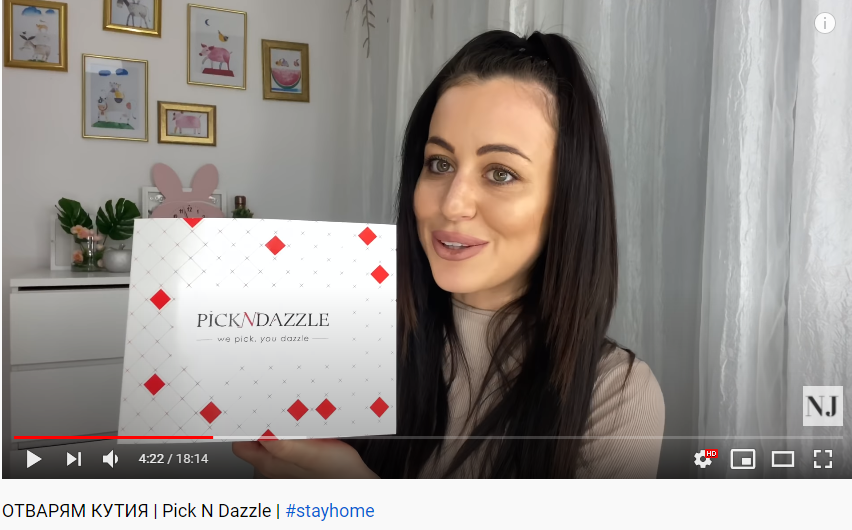 She explains that she somehow missed her order date twice and although she had no problem with the products, she remains on the opinion that everyone should choose their cosmetics on their own.
"Miss Cop's Mat And Fix Powder is my favourite, and I use it daily, as well as Cougar Beauty's micellar water, Rose Gold Micellar Water. I have used at least 3-4 packages of it, and I will not stop ordering it! It is very comfortable, especially for travelling because it is compact."
As a true connoisseur of beauty, Nicoletta carefully takes care of her facial skin. She has managed to build an excellent beauty routine, which includes Professor Herb day and night cream, Kueshi's Rediscover Eye Contour Cream, Bulinnovation pink floral water, and lots of lipsticks - "they are a daily routine, all day long!"
"People keep asking me - where did this lipstick come from? When they find out it's from Pick N Dazzle, they rush to order!"
Nicoletta says that sometimes people question her opinion when she makes videos and posts on social networks. "I shoot videos because I like it, and I want to see people's feedback. Some of them think that certain brands pay me for advertising, while the truth is different."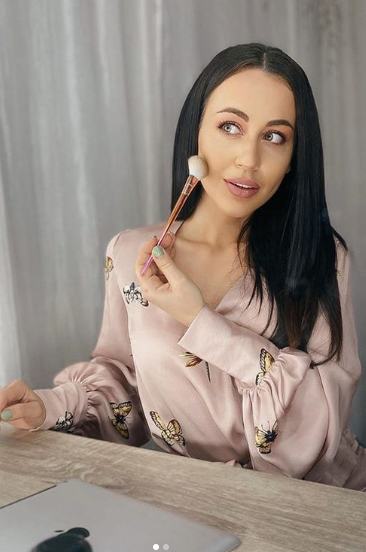 Thanks to her Youtube channel and the affiliate program we have built, Niki manages to add many free additional products to her box. If you want to learn how this works, follow the link: click click!
In the end, Nicoletta shared with me the most incredible thing about Pick N Dazzle box- "The unknown provoked me! Bulk items can be purchased from any drugstore, while products in Pick N Dazzle can't be found anywhere else."
Thank you, Nicoletta, for every video that you shoot with exclusive desire! We wish you success in the colourful path of handmade products you create. By the way, you can check them out here: http://www.njshop.bg/
Join the beautiful team of Pick N Dazzle clients and fill in your Beauty profile today. Your box will be with you before you manage to watch Nikki's latest video!