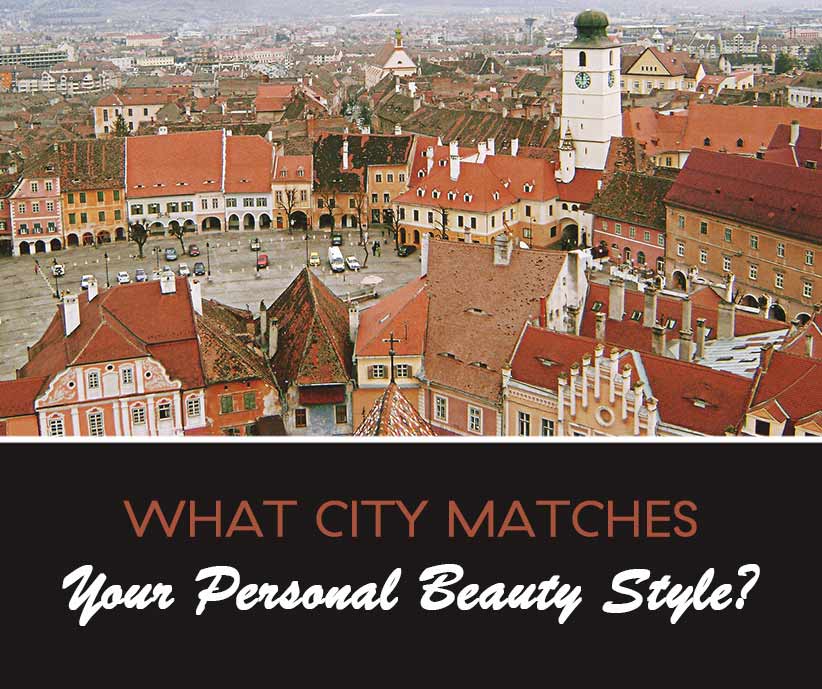 What City in Romania Matches Your Beauty Style?
Our work is to search far and wide for the best makeup and beauty products that will fit your personal style and preferences. Today, however, we will help you discover what city would suit you best. Just as each city has a culture all its own, they also each have their own signature look. Based on your beauty style, let's find out together what city is right for you?
Posted on 8/26/2015 12:38:14 PM
1. What's the one word you'd use to describe your beauty routine?
(A.) Primped
(B.) Edgy
(C.) Easy
(D.) Natural
2. What's your favourite lip colour?
(A.) A bubble gum pink
(B.) Hot red
(C.) Peach gloss
(D.) Coral lip balm
3. What's your must-have skincare product?
(A.) Water-resistant sunscreen
(B.) Facial cleansing wipes
(C.) Face cream
(D.) Coconut oil
4. What one item do you never leave home without?
(A.) Pressed powder compact
(B.) A bold lipstick
(C.) Ponytail holder
(D.) Lip balm
5. What's the wildest beauty look you've tried?
(A.) Fake Eye Lashes
(B.) Framed eyeliner
(C.) Grown-Up Pigtails
(D.) Sunset-inspired eye shadow
6. What's the one natural element that most affects your beauty routine?
(A.) Humidity
(B.) Seasonal fluctuations
(C.) Cold wind chills
(D.) Marine layer
7. What's your favourite hairstyle?
(A.) Long, windswept locks
(B.) Top knot
(C.) Classic pony
(D.) Tousled waves
8. What product is always in your shower?
(A.) Exfoliating body wash
(B.) High-shine conditioner
(C.) Scented body wash
(D.) Facial cleanser
9. What colour nail polish are you wearing?
(A.) Neon
(B.) Dark cherry
(C.) Nude
(D.) None
Results! If you answered …
Mostly As: You belong in Vama veche.
While the Vama veche beaches call out to you by day, it's those crazy beach nights that are really off the charts. You never leave the house without applying a water-resistant, non-greasy sunscreen, like Sol Leon Sun Cream spray For Body SPF 20. Protecting your skin from the damage of long days in the sun is important to you, but standing out at night might be even more important. This is why you love your blowouts and tan skin, and you never were one to shy away from a colourful makeup trend — dancing till sunrise has never looked so good.
Mostly Bs: You belong in Bucharest.
You've got attitude and edge, and your beauty routine reflects it! You're not afraid to take risks, but you prefer to run the streets in a bold look rather than a girly one. You tend to highlight one feature while playing others down, which is why you love deep lip colours like Desert Lush Sheer Lipstick range by the innovative Danish company Teeez. And as a girl-on-the-go, your skincare routine is quick and easy — you're a huge fan of makeup removing towelettes like the gorgeous and easy to use GLOV, a magic mitt that removes all your evening make-up and mascara only with cold or warm water.
Mostly Cs: You belong in Iasi.
Whether you're headed to a crowded bar or an expensive restaurant, you've perfected the girl-next-door style. Iasi girls are traditional yet sexy and they love any variation on the classic ponytail. Flirty and fun, sporty and easygoing, Iasi is the place for you. You're a bit of a girly girl, but you achieve this look without any hustle. You beauty routine is simple and easy-going and you follow it strictly before you head out the door. You never leave without applying your favourite perfume that blends cool femininity with classic romance, like GUESS SEDUCTIVE.
Mostly Ds: You belong in Sibiu.
You love your simple, natural beauty routine and live by the philosophy that less is more. You take pride in your strict skincare regimen because having great skin means you can wear less makeup. You also love cosmetics that care for people and the environment like the organic and highly sophisticated skin care brand NAOBAY. Sibiu is full of naturally beautiful girls just like you and has really contributed to a signature beauty look centred around taking care of your skin. Because this makes all the difference!