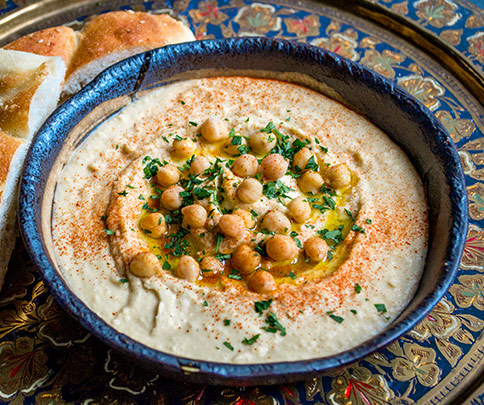 THE BEST BASIC HUMMUS RECIPE
Hummus is proof that some of the best tasting things in life are the simplest to make. It can be rustled up with just six ingredients and requires no cooking – only a food processor. The hummus recipe below will give you perfect basic hummus, and also a solid base from which to work in terms of experimenting with flavours.
Posted on 8/8/2015 12:13:07 PM
Hummus is a chickpea-based dip, and a staple at any Levantine table spread. Its simplicity means the popularity of this dish extends far beyond its home of the Middle East, Turkey and North Africa, and is now enjoyed across the world.
I have been eating hummus for as long as I can remember. My father would bring home great tubs of it from the local Turkish supermarket to accompany chicken and lamb kebabs he cooked over coals in the garden. They were always slightly charred from the lick of flames, and that combination of flavours instantly takes me back to the summers of my childhood.It's such a popular staple food because it compliments so many things. Meat goes without saying, particularly lamb, but it's also ideal for vegetarians who wish to dunk in a crisp crudité. It can act as a replacement for butter or mayonnaise in a wrap or sandwich, and it is wonderful simply scooped up with warm flatbreads.
It's also a great medium for experimentation. Hummus recipes across the countries of the Levant might include spices such as cumin, coriander seeds, paprika, dried chilli flakes, sumac, or za'atar. You might also come across hummus blended with red pepper, sun-dried tomatoes, and even caramelised-onion hummus in some supermarkets.
The hard and fast rule for flavouring hummus is that there are no rules, so it's great for having fun with at home. Once you have mastered the basic recipe, you can flavour it with whatever takes your fancy. I quite like adding black olives (and
therefore less salt), which get blitzed up with the rest of the mixture for a briney Mediterranean kick and a different colour.
Let your experimental side run wild, or simply enjoy as is.
Basic hummus recipe
Serves 6-8 as a starter
2 x 400g cans of chickpeas (reserve the liquid and a few chickpeas for decoration)
4 tsp tahini
2 garlic cloves, crushed
1 tsp crushed sea salt
6 tbsp quality extra virgin olive oil (plus extra for drizzling)
3½ tbsp freshly squeezed lemon juice
Paprika (optional)
Coriander or parsley leaves (optional)
Rinse the chickpeas in cold water and tip into the food processor. Add the tahini, crushed garlic, salt, lemon juice and seven tablespoons of the reserved liquid from the cans. Turn on the food processor and slowly pour in the oil while it runs.
When the mixture is fully combined and smooth, tip it into a serving dish. Drizzle with some more extra virgin olive oil and decorate with a few whole chickpeas. Sprinkle with paprika and finely chopped coriander or parsley leaves, for colour.
Source: www.jamieoliver.com