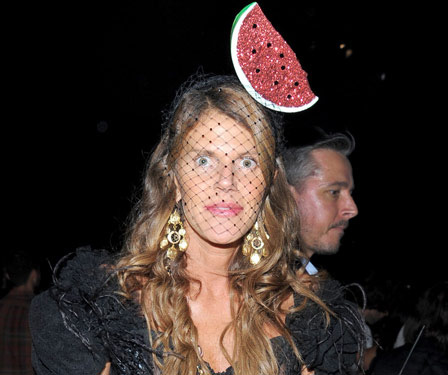 The 10 Most Irritating Street Style Trade Marks
Here's a roundup of the most irksome, overdone street style signatures, mega-trends and micro-trends.
Posted on 8/14/2014 7:53:54 AM
1. The Gigantic Portfolio as Clutch
Not to be confused with its miniaturized, evening-ready counterpart, the box clutch or minaudière, an oversized clutch is designed to be shoved underneath the wearer's arm and sweat upon all day long.
Who Wears It: Editors and those wanting to resemble editors, who refuse to admit a bag with straps is more convenient than an oversized leather (or fuzzy, furry) filing folder.
Why It's Irritating: The fact that it looks downright uncomfortable yet no one who carries this style of bag will admit it's physically awkward
What Should Replace It: Shoulder bags, hobos, satchels, backpacks, doctor bags, duffels and anything with straps or a mere semblance of accommodation.
2. The Artfully Shoulder-Draped Jacket
This one originated out of a need for speed. Busy editors would toss their jacket over in a fit of rushed anxiety to get to the next show. It's cool to look busy, so that's fine. You know what's not cool? Carefully placing your jacket over your shoulders and pretending it's a nonchalant cape.
Who Wears It: Those vying to look like editors or well-versed fashion bloggers. If you are actually too lazy to put your jacket on, even though you have one on you and you're stuck with it, this doesn't apply to you.
Why It's Irritating: One word: contrived.
What Should Replace It: Just put on your damn jacket. If it's too hot for a damn jacket, don't wear one.
3. The Fugly Shoe
You know those shoes: the kind so hideously heinous they become tempting, attractive even. They make you think, "Could I? Dare I?"
Who Wears It: Over-achievers and those up for a challenge, who think they're so adorable they can pull off a truly ugly shoe and make it look cute.
Why It's Irritating: People who find themselves more endearing than they actually are are annoying. Plus, ugly things you're forced to look at count as visual pollution. Feet are homely enough; shouldn't we try to make them look better, not worse?
What Should Replace It: Shoes that don't look like a toddler ate half a carton of Crayolas and then barfed on your feet. From femme-fatale pumps to kick-your-face-in combat boots, there is an endless supply of at least semi-attractive footwear out there to keep you occupied for at least a lifetime.
4. The Insanely Large Belt
In a "more is more" world, why bother wearing a belt that doesn't engulf half of your torso? What would be the fun in that? Consider the massive belt the 21 st century's chunky, hardware-heavy, masochistic answer to the girdle.
Who Wears It: High-fashion editors; ex-cast members from Jersey Shore; people who forgot why belts were invented in the first place
Why It's Irritating: Cartoonish and unnecessary, it makes even the thinnest of human clothes hangers look like she has something to hide.
What Should Replace It: Belts are great, so long as they pose some semblance of usefulness in your ensemble. Obviously, most aren't actually holding people's trousers up these days. Just remember this: if people are looking at your belt and wondering who the woman behind the belt is, you're in trouble.
5. Bare Legs in the Dead of Winter
This is a brutal pairing, and if Survivor: Fashion Edition were a show, the bold ladies who go tights-free in January would stand a solid chance of making it to the finals.
Who Wears It: Women who want you to think they are impervious to freezing temperatures; the stubbornest of the stubborn; teenage girls on New Year's Eve
Why It's Irritating: Admit it, lady-precariously-navigating-snowdrifts-in-razor-thin-stiletto-pumps-and-lily-white-unclothed-legs, you're cold! And you look stupid.
What Should Replace It: Tights, thigh-high socks, pants…something that covers your legs would work well! Wolford makes some nice pairs of stockings, as does Fogal.
6. Gratuitous Headgear
This accessory runs the gamut from crowns made of fabric and feathers to knobby, nubby turbans to fur hats of the most unflattering shapes.
Who Wears It: Anna Dello Russo; wannabe princesses and queens
Why It's Irritating: Overt and obvious, such a sartorial element should be regarded as a cry for help. Unless it's a proud signal of wavering sanity, and in that case, I support it.
What Should Replace It: Wear the silly hat if you really want to wear the silly hat. Just acknowledge the fact that you look silly, and it's all good.
7. The Birkenstock Sandal
Birkenstocks, not to be confused with the Fugly Shoe, are not terribly unattractive when you get down to do it. But the fact that they're considered a trend is enough to make them annoying.
Who Wears It: Every fashion blogger and her befuddled best friend, who's probably saying to herself, "Why the fuck did I agree to wear these chunky, toe-molded sandals I called 'granola' in high school but now I'm pairing with a flirty, floral dress? Oh, that's right, they're crazy-comfortable." Also, women who yearn to wear comfortable shoes but only as long as said shoes are socially accepted by the fashion flock.
Why It's Irritating: Comfortable shoes shouldn't be a trend or statement. They should be perfectly acceptable for casual days. They shouldn't be a "thing."
What Should Replace It: Nothing, necessarily. Just stop pretending your Birkenstocks are "high-fashion," and save them for casual days.
8. The Fuzzy Bag Buddy
Blame Fendi's Karl Lagerfeld, who released the house's now-ubiquitous Bag Bugs back in the fall. At first glance, they were worth a smile or at least a smirk. After you see ten, the preposterousness of accessorizing your accessory sinks in.
Who Wears It: Ladies who want to look like they're in with Karl; models who are actually in with Karl
Why It's Irritating: They're the fashion equivalent of Tamagotchis or Beanie Babies—cute until you realize they're just annoying, inanimate replacements for pets created to grab attention.
What Should Replace It: Save the dangly crap for your keychain, and let your bag speak for itself, sans tuft of fluff.
9. The Festival Effect
Founded upon the flower wreath, chain-sawed jean shorts, layers of suede fringe and Forever 21 wares, the Coachella Valley Music and Arts Festival has created a monster. Actually, thousands of belly-baring, peace sign-making monsters.
Who Wears It: Aspiring woodland nymphs, girls who want to look like they're "with the band," those who feel they should have been teenagers in 1969, precocious 12-year-olds
Why It's Irritating: Unless you've been bathing by a forest stream and drying your sparkly, dew-glistening body off with daisy petals and live squirrel tails all day, you have little right to don a wreath of flowers. (I've worn one myself on a few occasions, when I had fruitless visions of frolicking down the greasy sidewalk, and I'm not proud. Let's move on.)
What Should Replace It: Ratty, unwashed, Oribe Texturizing Spray-soaked, accidental dreadlocks
10. The "Look at Me, Please Look at Me!" Dress
A maxi-dress or dramatic long skirt is one thing, but a richly embellished, ornately adorned gown pre-twilight is another issue entirely.
Who Wears It: Contemporary Cinderellas; girls who are still awaiting that glamorous gala invitation
Why It's Irritating: Perhaps Nico said it best: "And what costumes will the poor girl wear to all tomorrow's parties?" Save it! Wearing a gorgeous, ridiculous evening gown to a fashion show in the middle of the day is like announcing to the world you can't wait to eat a single leaf of butter leaf lettuce and go to bed at 8pm, just to wake up fresh in the morning and put on a new evening gown. Some things are better left for after-dark, like public drunkenness. The daytime evening gown is the equivalent of that.
What Should Replace It: Lacey mini-dresses; casual long dresses; flamboyant long skirts with a simple button-down shirt or white T-shirt
Source: www.jezebel.com
What's the most irritating street style for you? Share with us in the comments below!