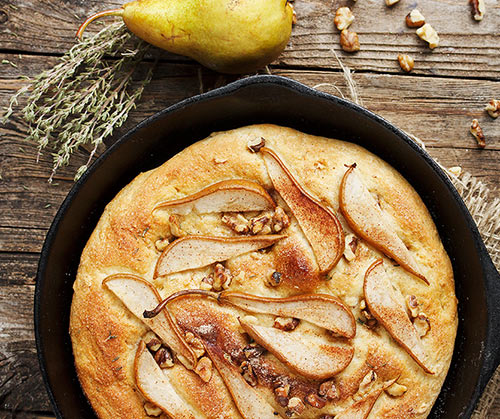 PEAR AND WALNUT FOCACCIA
Now that Fall weekends are getting cooler and wetter, we find we are spending more of them inside, maybe with a movie or a ball game. This Pear and Walnut Focaccia was a rainy weekend afternoon treat this past weekend, that we enjoyed.
Posted on 11/28/2014 10:32:15 PM
This focaccia is ever-so-slightly sweet. Not enough to resemble dessert, but enough to really bring out the best in the pears. A bit of thyme and some walnuts bring extra flavours to each bite. If you don't bake a lot of bread, you may not be familiar with making a "Sponge". It's really just a small bit of dough that gets a head start fermenting. It's typically very moist and batter-like, so it get's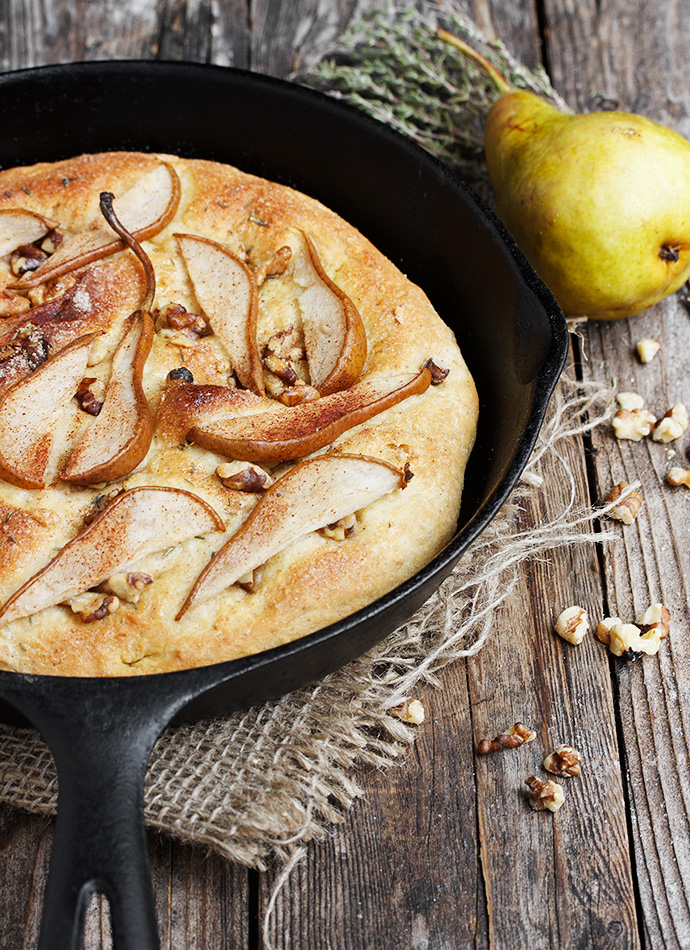 Ingredients
For the Sponge:
1 tsp. active dry yeast
1/2 cup lukewarm water
1 Tbsp. white sugar
1/2 cup all-purpose flour
For the dough:
1 tsp. active dry yeast
2/3 cup lukewarm water
1 Tbsp. brown sugar
1 Tbsp. molasses
2 Tbsp. vegetable or canola oil
1/3 cup fine cornmeal
1 tsp. fine sea salt
2 1/2-3 cups all-purpose flour (can use 1 cup whole wheat in place of AP)
For the topping:
2 tsp. chopped fresh thyme
1/3 cup chopped walnuts
2-3 ripe but firm pears, peeled, quartered, cored and sliced in wedges (about 1/2 inch thick at thickest point)
2 Tbsp. white sugar
1 tsp. cinnamon
Instructions
Make the sponge: In a large bowl or the bowl of a stand mixer, combine the yeast and water and stir to dissolve. Whisk in the sugar and flour. Cover with plastic wrap and let proof in a warm place until bubbly and doubled in volume, about 45 minutes.
Make the dough: If using a stand mixer, whisk together yeast and water in a small bowl and let stand a few minutes until creamy. Add to sponge mixture in the mixer bowl with the brown sugar, molasses and vegetable oil. Add the cornmeal and salt and mix in with the paddle attachment for 1 to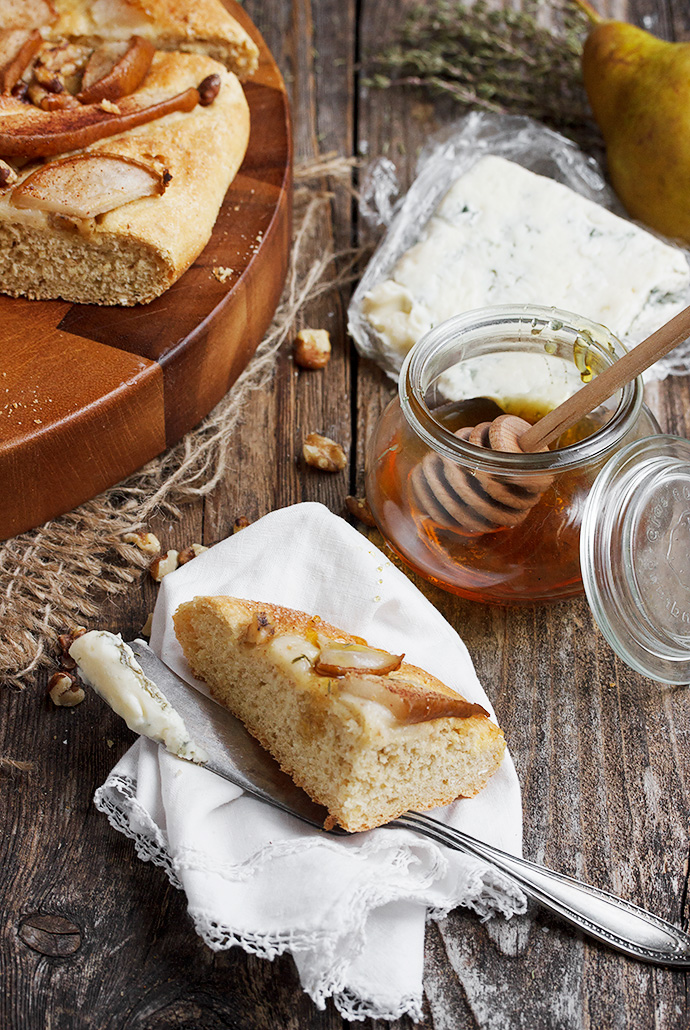 Source: www.seasonsandsuppers.ca
going really easily.
Enjoy this focaccia on it's own, or try it with a drizzle of honey and/or some gorgonzola and a glass of white wine. Best enjoyed right after it's baked. If you have some left-overs, it can be frozen and enjoyed later or try popping it under the broiler with a little gorgonzola on top.
2 minutes, until ingredients are well combined. Add 2 cups of the flour. Change to the dough hook and knead on medium speed for 8 to 10 minutes, adding more flour in 1/4 cup increments, as necessary, until dough comes together and slaps against the sides of the bowl. It will be slightly tacky. Remove dough to a greased bowl and cover tightly with plastic wrap. Let dough rise in a warm spot until doubled, about 1 1/2 hours.
Line a baking sheet with parchment paper and spray with cooking spray. Turn dough onto the baking sheet. Oil or moisten your hands, and press out dough until it just about covers the bottom of the pan. Dough may be sticky. Cover with a damp towel and let rise in a warm spot for 45 minutes to an hour, or until dough is full of air bubbles.
Preheat oven to 425° F. With lightly oiled fingertips or with your knuckles, dimple the dough, pressing down hard so you leave indentations. Place walnut pieces in the indentations, then sprinkle the thyme evenly over the dough. Arrange pears evenly over dough. Combine the white sugar and cinnamon, then sprinkle the cinnamon sugar mixture evenly over pears and dough.
Bake 20 to 25 minutes, until edges are crisp and top is golden. If you wish, remove focaccia from the pan and bake directly on the stone during the last 10 minutes. Remove from oven, remove from pan at once and cool on a rack. If you want a softer focaccia, cover with a towel when you remove it from the oven. Serve warm or at room temperature.
Best enjoyed right after it's baked. If you have some left, you can pop it under the broiler to crisp up. Try melting some cheese on top!