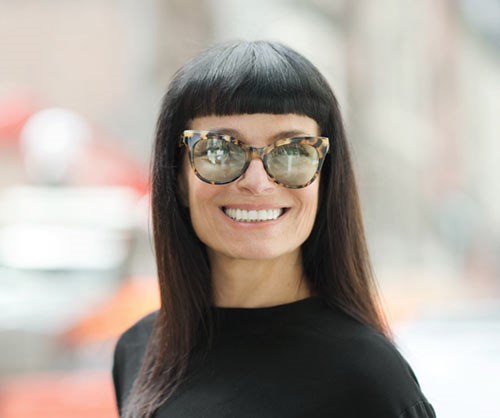 Norma Kamali and her beauty routine
She is bright, energetic, and most of all, incredibly (and naturally) gorgeous. She is known for her bathing suits that give you the body of a goddess. Oh, we almost forgot. Norma is 68. Now you want to know even more about her, right?
Posted on 6/12/2014 10:53:43 PM
What is your daily routine like?
My routine is very simple. I really pair down products and like things that I can use as a universal cream. I brush my teeth with a tooth soap that is made with olive oil and cinnamon. It is just a little dropper and then you brush your teeth with it. It pulls bacteria out of your mouth. There is a thing called oil pulling. You can use this for pulling because it is oil. It is a great practice. Then the next thing I do is take a shower – and I have olive soap which is made with the paste that comes after the olives are pressed the oil goes out. It has no chemicals in it. You can wash with it and it smells like the earth and it really cleans. You feel squeaky clean and there is no residue. I wash in the shower with a loofa and the olive oil soap and then I take the calcium liniment in the shower and while the water is still going, I put the liniment all over my body and I just let the heat help it sink in to my skin, so when I towel dry it is mixed into my skin perfectly.
I use calcium liniment for anything and everyone. At night I put calcium liniment on my feet, and I put my work out socks over them and it makes a difference. I use the liniment to take my makeup off. I don't really use makeup except for mascara. I am experimenting with one that we just got in from RMS. And then I use our stain lip color that is also made from plants. It is all plant based. And so basically everything I put on my body, you can eat.
So you don't use foundation?
No, but I do use a tanner that I did last night. The tanner is from The Organic Pharmacy in London. Anything that is plant based is great. I use that maybe once or twice a week so I don't need to put any foundation or anything on. The older you get the worse your skin looks with makeup on. And I don't think people need foundation. I think less is better.
I use a fragrance that I love called Restore and that is also plant based. You can actually drink it with
hot water. I don't use nail polish. I need a manicure, but whatever. When it happens it happens, and I am pretty low maintenance as far as that goes.
Do you put a SPF on your skin?
Yeah. And I go in the sun for a while, but I don't lay in the sun. If I am on the beach walking around I put something on. But most of the time I am not so focused on lying there. I don't have that personality. I can't. I am like, ok, I got to go.
What is your diet like?
For a long period of time I did raw. More than 85%. Now I mix. I have fish. Which is probably the only non-vegan thing I do. And then the other thing is that I have steamed vegetables.
Have you always eaten that way?
No. I tried a macrobiotic diet. And being a vegetarian was part of my life for a good part of it. I used to have a smoke and eat a bacon cheeseburger, many, many years ago, probably in the 70′s. I was smoking a cigarette and eating the bacon cheeseburger, just to be clear, incase you didn't think you heard that right.
In fact, everybody smoked in the company. In the sample room. Around all the fabric. There were ashtrays with cigarettes. All the pattern makers. Everyone. There would be smoke up in the ceiling. It wasn't anything we thought about. It was a prop. Having a cigarette and a cup of coffee or a cigarette and a glass of wine. That was kind of it.
Do you have a workout routine?
Well I think working out everyday is very important. At 4:45 pm everyday I go to the gym. I need it because I have this energy thing.
Source: www.garancedore.fr