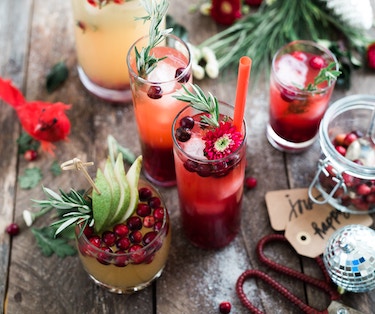 How to host a festive dinner
It's best to have a plan. Delegate cooking tasks, design your playlist, dim the lights, and take some time for yourself.
Posted on 12/23/2019 6:52:43 AM
Sitting around the table with loved ones is what Christmas is all about. But hosting a dinner can be stressful.
Everyone expects to have a good time, and much of the work of making that happen falls on the host. Here is how to throw a great dinner party this Christmas, have fun doing it, and spend a peaceful, joyous evening with your loved ones.
1. Enlist help. The fact that the holiday dinner is happening at your home does not mean you have to do everything on your own.
Ask people for help – if everyone brings a dish they prepared, or at least a bottle of wine, you can put together a glorious feast without spending the whole day in the kitchen.
You can call in the morning to make sure dishes do not overlap and you have a delicious, varied spread at the table.
2. Make a script. Would people only be having dinner at your house, or also exchanging gifts? Would that happen before, or after the meal? Would someone make a toast at the table, and who would that be? Would you like people to choose their own seats, or would you rather decide on the arrangement?
Decide beforehand how you would like the evening to unfold, so that you can manage people's expectations and minimise the stress of lass-minute decisions.
3. Dim the lights. What doesn't create a cosy, convivial atmosphere for a festive dinner? Bright overhead lighting.
Lighting from above is unflattering – it enhances the shadows under our eyes as well as all skin imperfections.
That is why it is never used in portrait photography. It also does not help people relax.
To create a warm, welcoming atmosphere, use wall-mounted or freestanding lights around the room. If possible, they should be yellow in colour, rather than a stark white.
Candles and Christmas lights add holiday cheer.
4. All I want for Christmas… is a good playlist. Whether you're relying on Spotify, Soundcloud, YouTube, or good old CDs, you can put together a playlist ahead of time so that, when your guests arrive, you can just press "Play".
You can go for season-appropriate, mellow music that won't distract from the dinner. Consider what the guests love – you can add in a song that would make them smile when it comes on.
5. Don't forget the centrepiece of the table: it's you.
The most important part of hosting is enjoying yourself.
It's fine if dinner is not 100% ready when people arrive. They can sit down with a drink and some hors d'oeuvres as you are finishing up. You can also ask for help setting the table and serving food.
It is more important to take the time to look and feel your best.
Give yourself the opportunity to do your makeup and enjoy a glass of wine before people arrive. That way, you won't be rushing and will set a tone of relaxed cheer.
Merry Christmas, dear readers! We're sure you will dazzle and shine this holiday season. Use the best of your beauty boxes and have a bold, beautiful New Year!