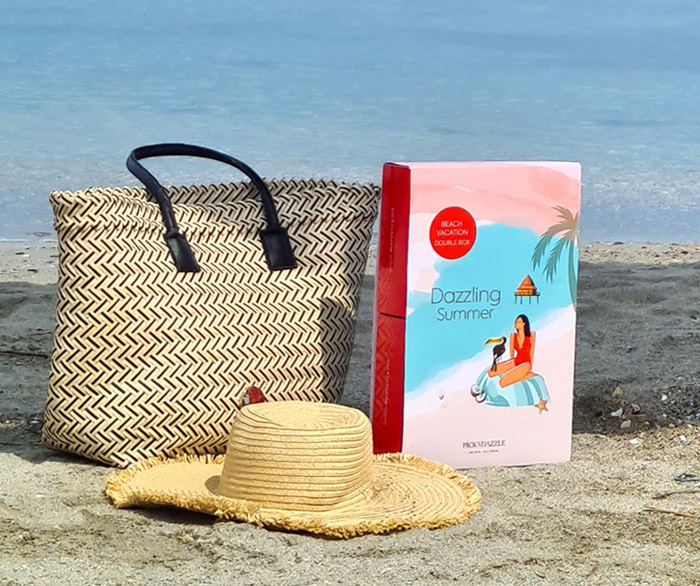 BEACH VACATION - Summer and sea
Summer and sea… this is what we are dreaming of throughout the year. Some lucky people who, thanks to the work from home or the fact that they have 2-3 months off in the summer, manage to spend more time by the sea.
Posted on 6/25/2021 8:48:51 AM
Summer and sea… this is what we are dreaming of throughout the year. Some lucky people who, thanks to the work from home or the fact that they have 2-3 months off in the summer, manage to spend more time by the sea. For the rest - start planning, even if only for a week Vitamin Sea is vital to recharge with positive emotions and enjoy your vacation.
Pack your bags or at least plan what you need. It is a well-known fact that in summer our skin needs different care, protection and nourishment compared to other seasons. So this is another good reason to pamper yourself. Our Beach Vacation Double Summer box is a real gift, because our experts have selected everything you need for your summer beauty routine. And the WOW effect when your boxes arrive and you start opening the gift you have made to yourself.
The most important step in beautifying in the summer is sun protection. Our experts chose Bottega di Lungavita sunscreen for the Double Box Beach Vacation, not only because it is a bestseller brand, but also because it provides high and long-lasting UV protection. Water resistance and maximum skin compatibility. Softens, nourishes, hydrates, fights redness of the skin. Contains UVA-UVB complex, green tea extract, carrot oil with beta carotene, shea butter, aloe vera.
To make an even complexion you need not only a sun, but also well-cleansed skin. Otherwise you risk of not pigmenting evenly and get staining. In addition, every lady dreams of smooth skin without cellulite. The answer to these problems is exfoliation with a suitable scrub. We have chosen the luxurious COFFEE SCRUB MANDARIN VANILLA with the aroma of fresh tangerine and sweet vanilla. Exfoliates, hydrates and nourishes your skin to perfection! Fine coffee, natural oils of tangerine and mint, melting sugar, a mix of organic, exotic oils. Helps fight cellulite, stretch marks and skin aging. Improves blood circulation and elasticity.
And what is a summer without flirt, love and kisses on the beach and the taste of watermelon…. We chose GOURMET LIP BALM WATERMELON COSMOPOLITAN, which has natural oils: almond, coconut and jojoba and with a great summer aroma of watermelon.
Can't wait to get a chocolate tan?.., You've probably started with a few baths by the pool or just lying on a sun lounger on the terrace. This fast complexion will be even more irresistible with CHOCO SUN TAN & BODY OIL. This will make you look like you have spent the whole summer by the sea. It is created with the highest quality organic cold-pressed oils and not only helps to quickly form a chocolate tan, but also nourishes and hydrates the skin intensively, leaving it silky smooth, soft and firm.
Going to the beach, sea water and the sun are great for relaxation, but they dry the skin terribly. Hydration and nourishment of the face, body and hair is needed. The products chosen by our experts are TOP best sellers.
COLLAGEN INTENSE RADIANCE ACTIVATOR SERUM by AVANT is a well known product and will be sold out in a few days when it is announced. The serum is enriched with collagen and brightening ingredients, contributing to visibly radiant and healthy skin. Smoothes wrinkles and fine lines, tightening the skin.
The beach vacation is to relax, so we chose to include RELAXING CHAKRA'S SHOWER CREAM, which is soap-free for soft and creamy cleansing of the body without drying the skin. Traditional Asian coconut oil is a natural solution to skin problems and Frangipani, red jasmine, has a cleansing effect and a pleasant aroma.
We will not only hydrate the body, but we will also enjoy the aromas. In your box we have chosen to put NOURISHING SPIRITS BODY BUTTER, which is so big that it will last you for the whole summer. This product is a rich gentle body oil that melts on your skin. A combination of traditional African shea butter, which moisturizes and protects the skin and lettuce oil, which has the ability to improve the elasticity and strength of the skin. Excellent for dry skin.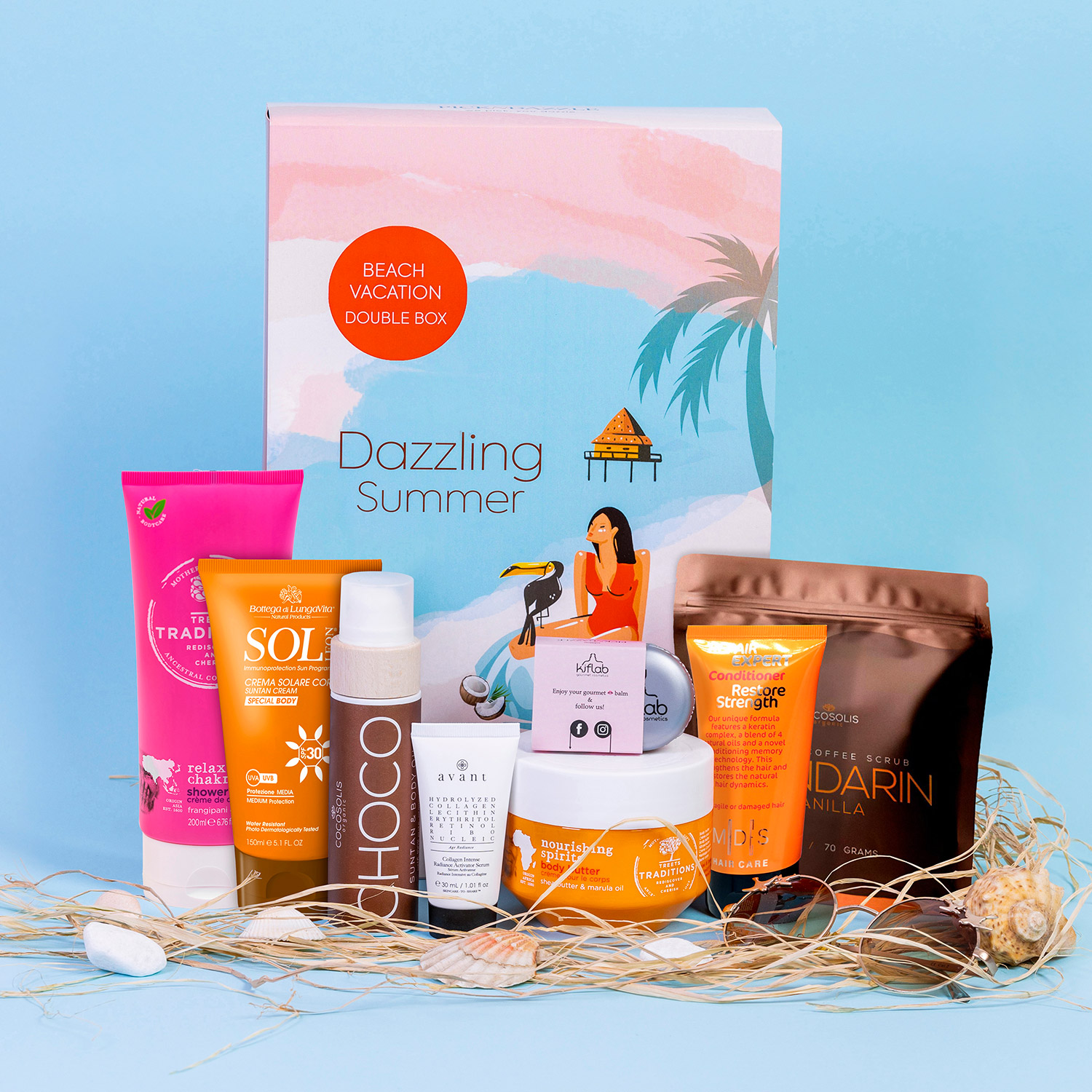 And we finish with nourishment for the hair - MDS REPAIR EXPERT RESTORE STRENGTH MASK. Restorative formula with keratin complex, innovative conditioning and memory technology, a complex of 6 natural oils, caffeine and plant extracts penetrate deep into the hair to instantly restore the natural volume, softness, strength and shine of the hair.
All products are included in your Beach Vacation Double Box and you don't have not think about your cosmetics while packing.