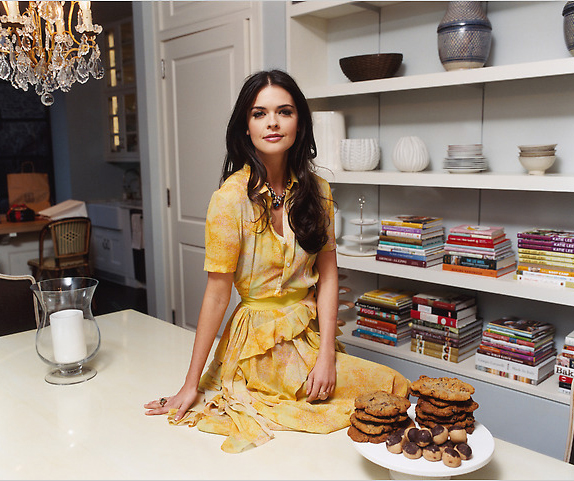 3 Perfect Summer Recipes (Also Gwyneth Paltrow's Favorite Cookies)
"Every great summer party starts with a list," says Katie Lee, author of Endless Summer Cookbook. "Throwing something together chaotically ends up being more work than taking 15 minutes to make a plan first." We asked Lee, co-host of the Food Network show The Kitchen, for her tips on hosting an easy summer dinner party.
Posted on 6/28/2015 1:16:07 PM
Don't fall down the Pinterest hole. "The best thing about summer entertaining is it doesn't have to be fancy—and you can eat outdoors. You can use a tablecloth or just a piece of fabric you love. You can't go wrong with white candles; put them in jars or hurricane vases."
Master the grill. "The grill is the summer equivalent of a fireplace; everyone gravitates to it. Kebabs are great because you can assemble them ahead of time. If you grill corn, brush the ears with green goddess dressing—a blend of fresh herbs, garlic, lemon juice, and mayonnaise—right after they come off the grill. It's incredibly flavorful."
Pair sweet with salty. "Stone fruits and cucumbers make an interesting combination on grilled fish, and I love black-bean-and-peach salsa. One of my favorite salads is spinach with pickled strawberries."
End with a bang. "Homemade ice cream sandwiches will make you the hero of your party."

Spinach Salad with Pickled Strawberries and Poppyseed Dressing
Serves 4-6
Strawberries in a spinach salad: good. Pickled strawberries in a spinach salad: better. Pickled strawberries and poppyseed dressing in a spinach salad: best.
For the dressing:
• 2/3 cup canola oil
• 1/3 cup apple cider vinegar
• 3 tablespoons honey
• 2 tablespoons Dijon mustard
• 1 large egg
• 1/2 teaspoon salt
• 1/4 teaspoon freshly ground black pepper
• 2 tablespoons poppy seeds
For the salad:
• 1 cup sliced strawberries
• 1/2 cup red wine vinegar
• 1 bay leaf
• 1 tablespoon sugar
• 1 teaspoon salt
• 1/4 teaspoon freshly ground black pepper
• 10 ounces spinach
• 1/2 red onion, thinly sliced
• 1 cup thinly sliced white button mushrooms
Make the dressing: Put the oil, vinegar, honey, mustard, egg, salt, and pepper in a blender and blend until smooth. Stir in the poppy seeds. Refrigerate until ready to serve.
Make the salad: Put the strawberries in a nonreactive heatproof bowl. In a small saucepan over medium heat, combine the vinegar, 1/2 cup water, the bay leaf, sugar, salt, and pepper. Bring to a low boil and allow the sugar to dissolve. Pour over the strawberries and let stand for about 20 minutes. Remove the bay leaf and drain the strawberries, discarding the liquid.
In a large salad bowl, combine the spinach, onion, mushrooms, and strawberries. Pour the dressing over the salad, toss well, and serve immediately.
Green Gazpacho
Serves 6-8
A chilled soup on a hot day is so refreshing. One of the farm stands I frequent, the Green Thumb, has a selection of the most beautiful heirloom tomatoes in their season. I thought the Green Zebras looked cool, so I bought a bunch of them, not knowing quite what I'd do with them. They served as a pretty centerpiece in a big wooden bowl on my counter until I figured it out: gazpacho. The avocado in this recipe adds an extra element of creaminess, and the lime juice evens out the flavors of the onion, garlic, and jalapeno. If I am serving it for an outdoor meal on a hot day, I like to stick the bowls in the freezer for a few minutes before ladling in the soup so it stays nice and cold.
• 2 pounds (910 g) Green Zebra tomatoes, cored and coarsely chopped, plus 1 Green Zebra cut into small wedges, for garnish
• 1 unpeeled seedless cucumber, coarsely chopped, plus 1 finely diced unpeeled cucumber for garnish
• 1 sweet onion, coarsely chopped
• 1 Hass avocado, chopped
• 1 small jalapeno, seeded
• 1 clove garlic
• 2 tablespoons fresh lime juice
• 2 tablespoons fresh mint leaves, chopped, plus more whole leaves for garnish
• 2 tablespoons fresh cilantro leaves
• 1/4 cup extra-virgin olive oil, plus more for drizzling
• Salt and freshly ground black pepper
In a blender, combine half of the coarsely chopped tomatoes, cucumber, and onion with the avocado, jalapeño, garlic, lime juice, and 1 cup cold water and blend until smooth. Transfer the puree to a large bowl.
Add the remaining coarsely chopped tomatoes, cucumber, and onion to the blender along with the mint, cilantro, and oil and pulse to a chunky puree. Add the puree to the bowl and stir well. Refrigerate the soup until well chilled, about 1 hour.
Season the soup with salt and pepper to taste. Garnish with tomato wedges, diced cucumber, and mint leaves, and finish with a drizzle of oil. Serve cold.
Cherry Chocolate Chunk Cookie and Cherry Ice Cream Sandwiches
Makes 12 ice cream sandwiches
Years ago, Gwyneth Paltrow invited me to dinner at her home in Amagansett. What does one bring to Gwyneth Paltrow's house for a hostess gift? A candle or a bottle of wine just didn't seem right; when in doubt: chocolate chip cookies. Well, I was out of chocolate chips, and it was too late to go to the grocery store. In my pantry I found a chocolate bar and broke it into pieces. It didn't seem like enough, so I threw in some dried cherries. Gwyneth cooked an awesome meal that night—I remember she made these perfectly grilled whole chickens and this lobster Cobb salad with duck bacon that was just delicious. When it was time for dessert, the cookies were a hit! She even asked me for the recipe to post on her website Goop. Here I've taken those same cookies up a notch by turning them into ice cream sandwiches with cherry ice cream. Make some homemade ice cream or just buy it!
• 2 cups all-purpose flour
• 1/3 cup unsweetened cocoa powder
• 3/4 teaspoon salt
• 1/2 teaspoon baking powder
• 1/2 teaspoon baking soda
• 1/2 cup (1 stick) unsalted butter, at room temperature
• 2/3 cup packed dark brown sugar
• 2/3 cup granulated sugar
• 1 teaspoon pure vanilla extract
• 2 large eggs, at room temperature
• 8 ounces dark chocolate (at least 60% cocoa content), chopped
• 1 cup dried cherries, coarsely chopped
• 2 pints cherry ice cream
Preheat the oven to 375 degrees Fahrenheit. Line two baking sheets with parchment paper.
Sift the flour, cocoa powder, salt, baking powder, and baking soda into a large bowl. In the bowl of a standing electric mixer fitted with the paddle attachment (or using a handheld mixer), beat the butter, brown sugar, granulated sugar, and vanilla on high speed until light and fluffy, about 3 minutes. Reduce the mixer's speed to medium and add the eggs, one at a time, beating until incorporated, about 1 minute.
On low speed, gradually add the dry ingredients and mix until just combined. Remove the bowl from the mixer and using a rubber spatula, mix in the chocolate and cherries by hand. Scoop by two heaping tablespoonful amounts (or use a 2-inch diameter ice cream scoop) onto the prepared baking sheets. Moisten the heel of your hand and fingers with water and flatten the cookies until they are perfectly round, about 1/4 inch thick and 3 inches in diameter. Place 6 cookies on each baking sheet, spacing them 1 inch apart. Bake the cookies until they are set in the center, 10 to 12 minutes, rotating the pans halfway through baking. Transfer the baking sheets to cooling racks to set for 5 minutes. Leave the warm cookies on the parchment paper and carefully slide them with the parchment off the baking sheet and onto cooling racks to cool completely. Let the baking sheets come to room temperature, line them with parchment paper again, and repeat the steps for the second batch of cookies.
When all the cookies have cooled completely, you are ready to assemble the sandwiches. Allow the ice cream to soften until it is easy to scoop. Spoon 1/4 cup onto half of the chocolate cookies and top with the remaining cookies to create sandwiches. Freeze on a baking sheet for 30 minutes. Serve immediately, or wrap individually in plastic wrap and store in a freezer bag to serve later. The ice cream sandwiches will keep frozen for up to 2 months.
Source: www.allure.com