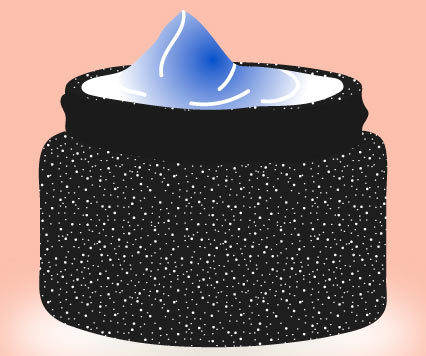 The Future Of Skin Care
Skin care is at the forefront of technology. Just think about all the products on the market today that didn't exist when our mothers were growing up. The industry is progressing so rapidly that we think it's a good time to take a step back and peek into the future.
Posted on 11/10/2014 8:07:42 PM
We chatted with dermatologists, brand founders, and product developers about what's coming next. And, the future looks bright. We're looking at ingestible SPF, printable products, and synthesized naturals that may be better for you than the real thing. The crazy part is that this is all within reach in the next decade or so.


A FitBit For Your Skin
Unless you're a dermatologist — or somehow have access to all the skin-care products in the world — you probably use the same handful of bottles on your face every day, right? Fair enough. But, Marla Malcolm Beck, founder of M-61 Laboratories, thinks this will change drastically.

"I think that they'll eventually develop an app that's kind of like a FitBit for your skin," she says. "It will tell you everything you need to know about your skin that day: the water levels, collagen levels, and on and on. Because, your skin is different from day to day."

Then, things will get really interesting. "The app will be hooked up to a 3-D printer that's equipped with different skin-care ingredient cartridges," Beck says. "It will be able to cocktail products for you and then print them, so every day you have exactly what you need for your face." Can you imagine how glowing and gorgeous we'll all be if this prediction comes true?
SPF 2.0
Dermatologist Craig Kraffert, MD, of Amarté Skin Care, says the days of heavy sunscreen may soon be behind us. And, who wouldn't want their SPF to glide on as smoothly as moisturizer?

"The FDA is under huge pressure to look at and make a decision on new ingredients," he says. "Once they do, it will give us a ton more options. It may be that [it will be] easier to make more elegant sunscreen products — meaning people won't mind using them, and they may work better."

Someday, we might even skip the slathering and start popping sunscreen pills. "There will probably be a time where sunscreen pills are how we deal with sun protection," says Beck. "I can envision that and a lot more high-tech ingestibles that really make sense."
Death Of The Day Spa
The stereotypical day spa may be a thing of the past. "The idea of a spa that is only about relaxation, chocolate facials, and rose petals in the bath is dead," King says. "Women, and men, are becoming less and less interested in that." American spas are about to become more "hardcore," as she says, like their European counterparts. "If you go to a health spa in Europe, you'll see no fluffy robes or slippers."

This means serving up the goods, and nothing but the goods. "Women are now saying, 'Give me the latest, greatest thing that is going to give me those visible results,'" King says. "The modern woman wants to…bring down her stress levels and take good care of her skin. These new-and-improved spas will do just that."



Ling thinks so, too. "I see the skin-care industry
becoming more niche," she says. "Rather than the conventional, large day spas, spa owners will specialize in one or two treatments. It will be about catering to very specific needs." We'll take that over a chocolate facial any day.
Braniac Beauty
Your beauty products are about to get smarter. "There's going to be a big amount of influence from the pharma and nutritional worlds," says Smitha Rao, VP of product development for StriVectin. "We know that when you apply antioxidants or…peptides intelligently, it turns on and turns off very specific genes."

Formulas — not just ingredients — will get more effective. "Formulations will no longer just be 'delivering' the active ingredients to the skin," says Rao. "They'll work to improve the efficacy of the products." 



Ling Chan, founder of Ling Skin Care, agrees. "I see more exciting ingredients on the horizon that will be 'smart' and custom — ingredients that can deliver results according to our individual skin type and ailment."
Designer Products
Organic ingredients will soon do more mingling with lab-created ones — and it will benefit us.

"In skin care, it will be about the marriage of 'What is the best extract I can get out of botanical ingredients?' and 'How can I combine that with the best that science has to offer?'" says Annet King, director of global education for Dermalogica. "Consumers are already very aware of what ingredients are good. We'll be able to…design our own peptides and know what amino acids we can put together."



And, Rao says: "We know what active ingredients are most important to your skin. We can use plant biotechnology to harness the best of what's in a good thing, and make it better. It's 'science with a soul.'"
Hard-Working Hybrids
We're already starting to see hybrids: makeup products that contain skin-care ingredients. But, they're about to get huge. "We've moved on to the idea that every cosmetic…needs to have skin benefits," says King. "We're looking at skin care, 24/7 — not just through skin-care products."

Yannis Alexandrides, MD, a plastic surgeon and founder of 111Skin, agrees. "We're quickly seeing the line between cosmetics and treatment become blurred," he says. "New-ingredient technologies that have been proven successful in medicine are beginning to be used in cosmetics."



And, SPF is just the beginning. You'll be able to use foundations, concealers, lipsticks, and more with powerful skin benefits, like anti-aging and acne control.
Take a look into our crystal ball to see what lies ahead for your face. 
 If you're looking for the right beauty products, which will make your skin radiant and glowing, fill out your Beauty Profile to get the best products on the market!