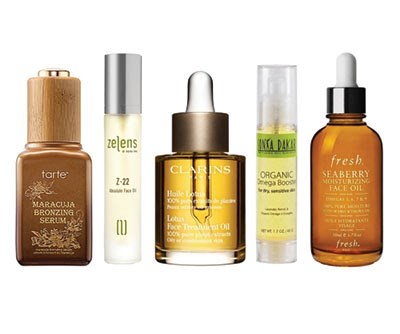 The best face oil for your skin type
If you thought face oil only existed to cure the driest of derma, think again! In fact, the tried-and-true concoction can be life-changing for oily skin and will even prevent blemishes.
Posted on 11/25/2015 10:52:33 AM
Tarte. Best for: Getting a glow
A favorite of our team, Tarte's highly effective Maracuja Oil is now available with a hint of gradual bronzer for summer... Trust us, it's major. You can buy Maracuja Bronzing Serum, Tarte for $47.
Zelens. Best for: Anti-aging
Ideal for acne-prone or oily skin types, this anti-ager yields dewy, gorgeous results without causing blemishes or over-hydrating. You can buy Z-22 Absolute Face Oil, Zelens for $105.
Clarins. Best for: Oily skin
This groundbreaking formula tightens pores and smoothes skin without over-moisturizing. You can buy Lotus Face Treatment Oil, Clarins for $52.
Sonya Dakar. Best for: Acne prone skin
This light and freshly scented face oil actually prevents blemishes and leaves skin glowy and refreshed. It's so light, you can even wear it under your makeup if you need a little extra moisture (we've tried it!). You can buy Organic Omega Booster, Sonya Dakar for $42.
Seaberry. Best for: Dry skin
Made to moisturize, this uber hydrating game-changer leaves skin softer and smoother than ever. You can buy Seaberry Moisturizing Face Oil, Fresh for $50.
Source: www.stylelist.com