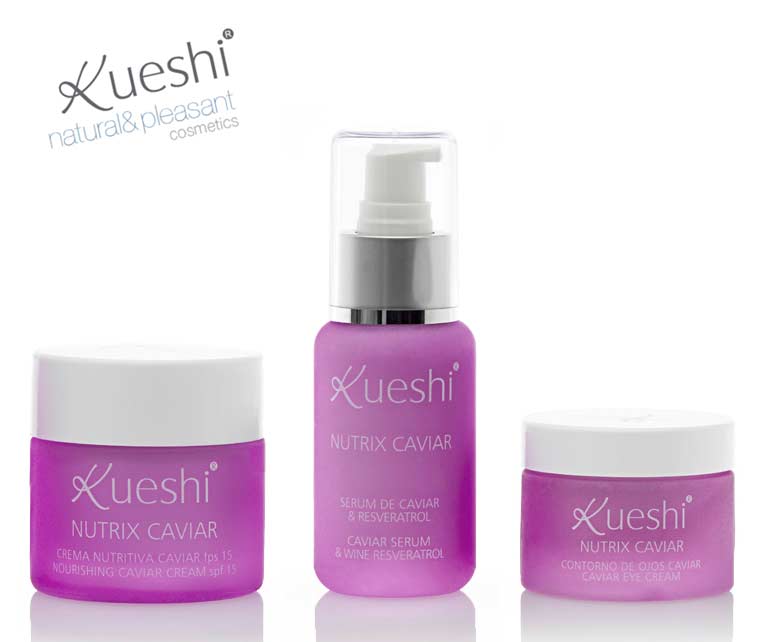 Our new discovery, the Kueshi Nutrix Set
We just can't get enough of KUESHI's Caviar Cream, Serum and Eye Cream, a new cutting edge skincare line.
Posted on 5/21/2015 10:42:50 AM
This amazing caviar skin care line is designed to go right to the heart of skin-ageing problem. It not only induces collagen production and fights against extrinsic and intrinsic ageing but it also has strong healing abilities. Your skin will look younger and radiantly alive in no time. Plus, all KUESHI products are free from animal testing and parabens.
Thanks to its essential amino acids and the variety of trace elements, the caviar has nourishing, regenerating and restructuring properties and is able to revitalise the tissues. So, let's start with the products' reviews, one by one.
Nutrix Caviar Serum
This is a moisturizing serum, perfect for normal-to-dry skin, that has a very natural perfume and it is also very quickly absorbed by the skin which we absolutely love. It combines the nourishing action of caviar extract with the exceptional antioxidant and rejuvenating resveratrol. While Caviar extract provides the relevant nurients to the skin, resveratrol prolongs the longevity of cellsand naturally slows the signs of skin ageing. The composition of the Caviar Nutrix serum leaves the skin smooth and diminishes imperfections.
It comes in a gorgeous pink glass bottle and very hygienic pump that will always stay clean because of the plastic cap.
Active Ingredients: Caviar + Resveratrol + Olive Oil + Avocado Oil + Sweet Almond Oil +Vitamin E.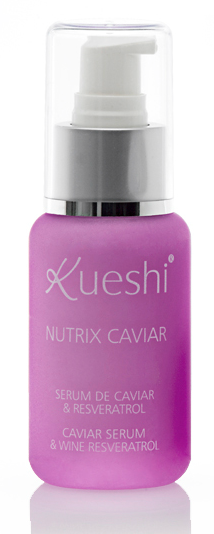 Caviar Nutrix Eye Contour Cream
The Caviar Nutrix eye contour cream gives the delicate skin around the eyes the feeling of intense hydration and a tightening effect through the assets of Caviar, Royal Jelly, Shea Butter abd Natural Oils. By increasing the production of Collagen and Elastin, it helps retain water preventing dryness, soothing and softening bags and fine lines.
Active Ingredients: Caviar + Royal Jelly + Olive Oil + Avocado oil + Sweet Almond Oil + Shea Butter + Vitamin E.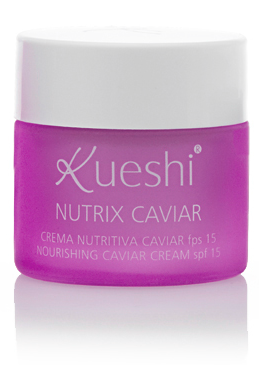 Caviar Nutrix Cream
Anti-Ageing Caviar Nutrix Cream, is a nutritious treatment that, thanks to the combination of active ingredients nourishes and tones the skin while helping to retain moisture and eliminate signs of ageing. Its high content of caviar extract has a high concentration of fatty acids and essential amino acods, peptides and structural trace elements able to revitalise the tissues. It also increases the production of collagen and elastin slowing the aging of tissues.
Active Ingredients: Caviar + Olive Oil + + Avocado Oil + Sweet Almond Oil + Shea Butter + Vitamin E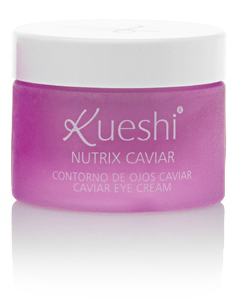 If you want to add more caviar and high-quality products to your beauty routine, sign up for our Dazzling Picks.