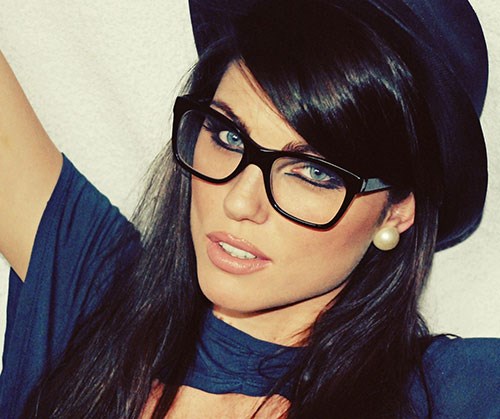 Makeup for Girls With Glasses
Long gone are the days when spectacle-wearing women were considered to be the mousy, librarian types. In many cases, the right pair of frames can even add to your hotness by adding a layer of — or at least the perception of — intelligence, confidence and depth.
Posted on 6/4/2014 11:21:55 AM
Step 1: Face Makeup That Stays Put
Apply a primer to make sure that your makeup doesn't rub off where your glasses touch your face. Let the primer soak in for a second, and then apply a cream concealer under the eyes and over any problem areas. Finish by applying foundation with a sponge and set with loose powder.
Step 2: Highlight Features That Frame the Glasses
While the frames of glasses frame your face, your cheeks and brows frame your glasses. So play up these features that draw attention to your eyes! Use a dark brown shadow and an angled brush to fill in your brows so they are prominent. Then apply a bit of pink blush on the apples of your cheeks. If your glasses are larger frames that hide a bit of your cheekbone, use them as guidance for where to apply the blush so the color doesn't rise up past the frame. With the glasses on, use a highlighter to add some shimmer to the outer cheekbones, the bridge of the nose, and above your eyebrows. Blend bronzer into the hollows of your cheekbones for added definition.
Step 3: The Eyes Behind the Frames
It's best to keep the makeup on your eyes relatively clean and simple, because the glare on the lenses can sometimes be distracting enough. (Though the occasional smoky eye is a must, for those special occasions!) Apply a bronze,
shimmery shade just above the crease with a fluffy brush. Then use a velvety, peach shade in the inner corner of the eye and on the center of the lower lid. Use black, cream eyeliner and an angled brush to apply a thin line along the upper lash line, finishing it with a small upward flick at the end. Curl your lashes so they don't touch your lenses, and swipe on black waterproof mascara.
Step 4: Finishing Touches
Because you've kept your eye makeup fairly simple, you should have some fun with the lips. Apply a peachy gloss for a natural look. If you're feeling adventurous, an orange-red lip or bright coral would be great, too!
Source: www.makeup.com
What's your No. 1 issue as a glasses-wearing gal? Tell us all about it in the comments below.