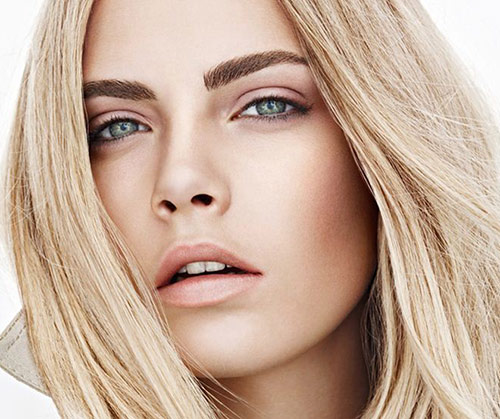 How To: The No Makeup-Makeup-Look
Francois Nars created an internet frenzy when he glammed up the Marc Jacobs models with nothing more than moisturizer for the Spring 2015 runway show last week. No makeup? Bare skin? Blemishes? OH MY! Okay, let's get a few things straight.
Posted on 9/17/2014 11:42:02 PM
We mortals can fake most of the aesthetics (save for height and weight) – such as those angular cheekbones, thick brows, and model-worthy glow – with the help of a few trusted products. And then we, too, can brag about our superhuman perfection.
Prep: When it comes to no-makeup-makeup, prepping your skin is key. You want to create that coveted dewiness… and a moisturizer that contains hyaluronic acid, a natural plumping agent that rehydrates all skin types. It holds its weight in water by something like 100 times. Dewy skin starts with a thoroughly hydrated base so make sure to layer your serums and moisturizers. You can try an oil-free face cream will inject moisture without a greasy residue for a healthy, dewy complexion.
Adding a drop of face oil to your moisturizer will do wonders for your glowing-from-within complexion. If it's formulated specifically for oily skin it won't make you break out. Literally, all you need is one drop.
Complexion: We're striving for a no-makeup look so foundation is out of the question. If you're really self-conscious about your uneven complexion, use a very sheer tinted moisturizer. It covers imperfections without looking cakey. In fact, it leaves a dewy glow on the skin, similar to that of a supped-up hyaluronic acid moisturizer. If you have a tinted moisturizer that you adore, thin it out by adding more of your actual moisturizer to the tinted one, then apply.
If you can live without the tinted moisturizer, try spot treating blemishes and imperfections with a blend able concealer – the same color as your skin tone (This is how Nars treated the Marc
Jacobs models because, yes, even models get the occasional breakout).
Cheekbones: To add a little chisel to your cheekbones without it looking like you're trying too hard, apply a contouring powder very lightly into the hollow of your cheekbone and blend out toward your hairline. If you apply correctly, the makeup won't be noticeable but the newly improved model-like cheekbone will!
Eyebrows: A full brow can literally change your entire face. You don't need eye makeup if you have a thick, full brow. So, do what the experts do, and color in the lines! Try a brow powder duo that will let you mix and match two shades to create your brow hue (we suggest going slightly darker to make eyebrows look larger and more full). But here's the real trick. If your brows are thin or sparse, after filling them in with powder, go over them with brow gel, and everything will stay in place.
Extras: The no-makeup look basically implies that you're not using any makeup (although we know that this isn't entirely fact… shhhh). And mascara is a dead giveaway. But you can fake longer lashes by adding some gloss to the lashes — seriously, it works! Try a multipurpose cream. Add a dab onto cheekbones – and even brow bones – to accentuate your natural dew.
Source: www.beautybanter.com
Wondering which are the right products that will help you achieve the no-makeup makeup look? Fill out our super-easy 60 SECOND Beauty Profile and we will recommend you products that we think you're going to love. You do the test, we do the rest!