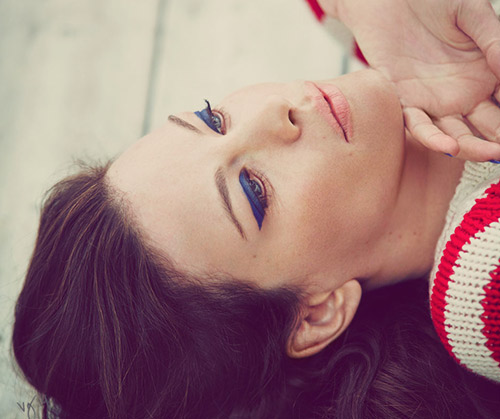 HOW-TO: THE ELECTRIC CAT EYE Of Liv Tyler
Makeup artist Genevieve Herr has created camera-ready looks for Liv Tyler for over a decade, but it was a striking blue cat eye for VIOLET GREY's July cover shoot that got our attention.
Posted on 7/9/2014 6:54:28 PM
1. Outline.
To begin, lightly trace a cat eye outline using Dior's Waterproof Crayon Eyeliner in Captivating Blue. Start in the inner corner of the eye and use a light touch. Draw a slightly-arching path between the crease and the lashline. Stop halfway between the crease of the eyelid and the center of the eyebrow and assess the shape. Then directing the line to the end of the eyebrow after you reach the center of the eye. Connect the stopping point to the lashes by drawing a straight line to the outer-most part of the lashline. Repeat on the other eye.
2. Fill in.
Once the shape is established, fill in and sharpen the cat eye with Dior's Dior Addict It Line Liquid Liner in It Blue, Which delivers a solid, uniform color. Be precise around the lashline to ensure no gaps remain between the lashes, then slowly fill in the shape. Use one fluid, sweeping motion to perfect the outline.
3. Intensify.
Curl the eyelashes and apply two coats of Dior's Diorshow Mascara to the top and bottom lashes to add definition and balance.