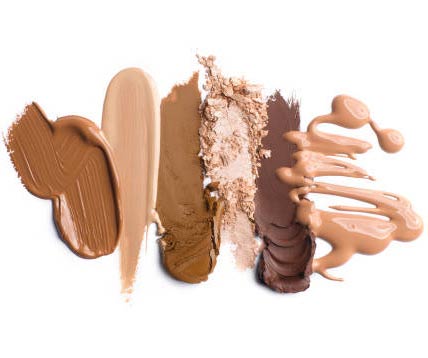 How to Never Go Home With the Wrong Foundation Shade Again
It's time to put an end to the foundation graveyard. R.I.P. to all of those lovely shades you thought looked good at first, but ended up being just plain wrong.
Posted on 10/6/2014 10:17:57 PM
According to Byrdie, it is possible to find your perfect match, if you know what you're doing.
Be Prepared
Before you start shopping for foundation, make sure you've got a clean canvas. Remove makeup, cleanse, and exfoliate away dead skin cells. To get the most accurate color read, your skin needs to be totally clean and makeup-free. But do put on a little mascara, brow powder, lip color, or whatever non-complexion makeup you usually wear. It's easier to assess your choices when you look in the mirror and actually look like yourself. And wear white, as other colors can interact with your skin tone.
Match to Your Neck
The skin tone of your face, neck, and décolletage are going to differ slightly. The best area to match is your neck. That way when you're wearing the foundation, the transition from face to neck is seamless, and you avoid the dreaded foundation line along your jaw. Apply a swipe of the shade you're considering from your cheek
down to your neck. The right shade should disappear into your skin. Once you think you've found the one, test a larger area. Apply the shade to one side of your face to confirm.
Go Outside
Department store lighting is notoriously awful (and probably the main factor contributing to your collection of almost right foundations). With your neck test intact and your half-face of foundation, take a mirror and go find some natural light. The shade that disappeared in the light at the makeup counter may not look as flawless when you step outside, but keep testing until you find one that does. Always choose the shade that passes the natural light test.
Looking for more products that simply work and suit your skin type? Fill out your Beauty Profile and you get every month only the best products on the market, suited especially for you right to your door!