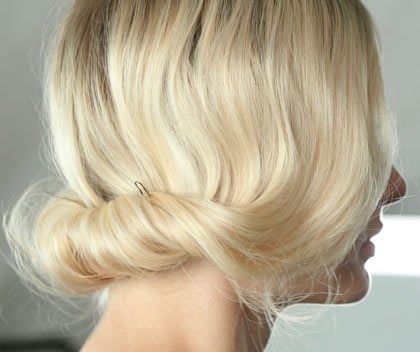 A wedding Hairstyle to Rip From the Runway
"I love this look from Badgley Mischka's New York show," says Josue Perez (stylist to Cameron Diaz, Sarah Jessica Parker, and more). "I think it's a great look for any bridesmaid going for an Old Hollywood glam look."
Posted on 6/11/2014 10:59:40 PM
Also, this updo keeps the hair out of your face so you can focus on having a great time and dancing. Here's how to get the look:
1. Starting from the root, run Rowenta Beauty Straight Express flat iron down the front pieces of your hair—you only need to do this to the front sections on each side.
2. As you work your way down, rotate the iron clockwise to get a slight wave. Spray to hold.
3. Next, from earlobe to earlobe, pin 1-inch thick pieces of hair with a bobby pin along the nape of your neck. Tease the ends of each piece and secure with a pin.
4. Roll the pin up (like you would a poster) and secure when you get to the top bobby pin. Pin to hold. Repeat until all of the bobby pins have been rolled up. Spray to hold!
Source: www.beautyhigh.com