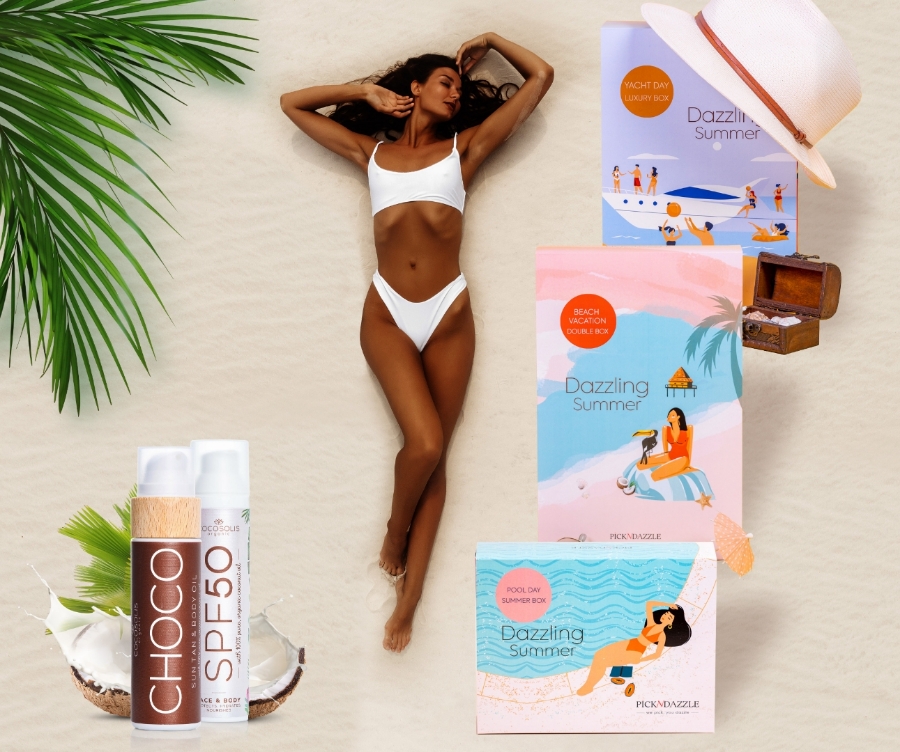 7 Summer skin care tips
Summer is a dream, vacation, mood, love. If you dream of more beautiful days on the beach, fun by the pool or an all-day party on a yacht, you are not alone. Unfortunately, this hot days are not always the best moments for your skin care.
Posted on 5/28/2021 11:59:38 AM
Summer is a dream, vacation, mood, love. If you dream of more beautiful days on the beach, fun by the pool or an all-day party on a yacht, you are not alone. Unfortunately, this hot days are not always the best moments for your skin care. Here are some tips that you and your skin will have a good time this summer!
1. Use sunscreen products
Always apply sunscreen before going out. Sunscreen products scatter, reflect or absorb sunlight and thus protect your skin. Natural ingredients such as coconut oil, shea butter and carrot oil also have their natural SPF value, so you can also look for sunscreen products with these ingredients. In Pick N Dazzle Summer Boxes we have included such products for sun protection with proven quality.
COCOSOLIS NATURAL SUNSCREEN LOTION SPF 50 is Organic sunscreen lotion with 100% Natural ingredients, wonderful for people with delicate and sensitive skin, precious organic oils nourish the skin, make it soft and moisturized.
The other sunscreen product included in the boxes is ECOOKING SUNSCREEN SPF 30, also with organic ingredients and natural oils. Organic aloe vera extract and cucumber have a soothing effect on the skin. Organic glycerin balances moisture in the skin.
It also contains ingredients that improve skin elasticity and stimulate collagen production.
And don't forget to reapply sunscreen every few hours.
2. Hydration. Hydration. Hydration.
We all know that it is important to resist the heat and stay hydrated during the summer months. Stay cool and protected from dehydration and keep your skin healthy. The cells are made mostly of water (about 70%) and the lack of enough water can disrupt their functioning, making it dry, flaky and taut. If the elasticity of your skin is bothered it can easily lead to wrinkles and cracks.
An adult woman should drink about 2.1 liters of water a day, but keep in mind that if you exercise and sweat, drink coffee, alcohol, this amount will not be enough. Squeezing a lemon, a few slices of cucumber or some raspberries can make an ordinary old glass of water more interesting.
Hydration should be on the outside as well as on the inside - take care of your skin, hair and lips.
We chose great summer products in our boxes:
The absolute BEST SELLER CHOCO SUN TAN & BODY OIL is included in all our boxes. It helps to quickly form a chocolate tan on the beach, under the sun and in the solarium. Every day it nourishes and hydrates the skin intensively, leaving it silky smooth, soft and firm. It is a natural product created with the highest quality organic cold pressed oils.
NOURISHING SPIRITS BODY BUTTER is a rich gentle body oil that melts on your skin. A combination of traditional African shea butter, which moisturizes and protects the skin, and lettuce oil, which has the ability to improve the elasticity and firmness of the skin, make it excellent for dry skin after a beach.
MDS REPAIR EXPERT RESTORE STRENGTH is a sulfate-free hair conditioner with keratin for application with a softening system for silky soft and shiny hair. Contains natural oils of Moringa, avocado, almond and Camelina, caffeine and plant extracts of red tea and aloe vera. Strengthen the hair and helps reduce breakage and the formation of split ends without weighing down the hair.
3. Avoid the sun during peak hours and wear protective clothing
The best thing you can do for your skin is to protect it from the harmful rays of the sun. Sun exposure can lead to wrinkles, brown spots, sunburn and even skin cancer.
Wear clothing that minimizes sun exposure. Clothes designed to protect you from the sun have a special sign that shows how much of the sunlight leaks. For example, a UPF 30 shirt will transmit 1/30 of the sun's rays to your skin.
A wide-brimmed hat and sunglasses are a must. The sun makes you narrow your eyes, which leaves a lot of unpleasant wrinkles around the eyes, where the skin is very thin.
To keep the freshness of the face, we have included in our boxes a moisturizing product that can retain moisture for 24 hours - COOKING - 24 HOUR CREAM. Extremely moisturizing and can be used as both day and night cream. The 24-hour cream is filled with moisturizing ingredients that increase moisture in the skin.
Some perfumes, as well as medicines, can increase the skin's sensitivity to the sun.
4. Use kitchen paper to banish shine on your face
Your skin becomes oilier in the summer. Studies show that sebum production increases during the summer months and this explains the shine of the face! Many of us use face powder to get rid of shine and sometimes end up with a mask effect. Instead, use blotting paper to gently soak up excess moisture.
5. Be careful with makeup
Heat, sweat and heavy makeup do not go well. So avoid creamy, heavy skin products in the summer. In fact, as we have seen, your skin tends to become oily in summer. So even if you have dry skin, you may find that during this time a lighter moisturizer works better for you than your usual moisturizer. You definitely need to change your cosmetics in the summer to be adequate for different needs in the summer.
What you should definitely use in addition to sunscreen is a lip balm, because the sea breeze and salt water dry them out a lot. We chose GOURMET LIP BALM WATERMELON COSMOPOLITAN, which also has natural oils: almond, coconut and jojoba.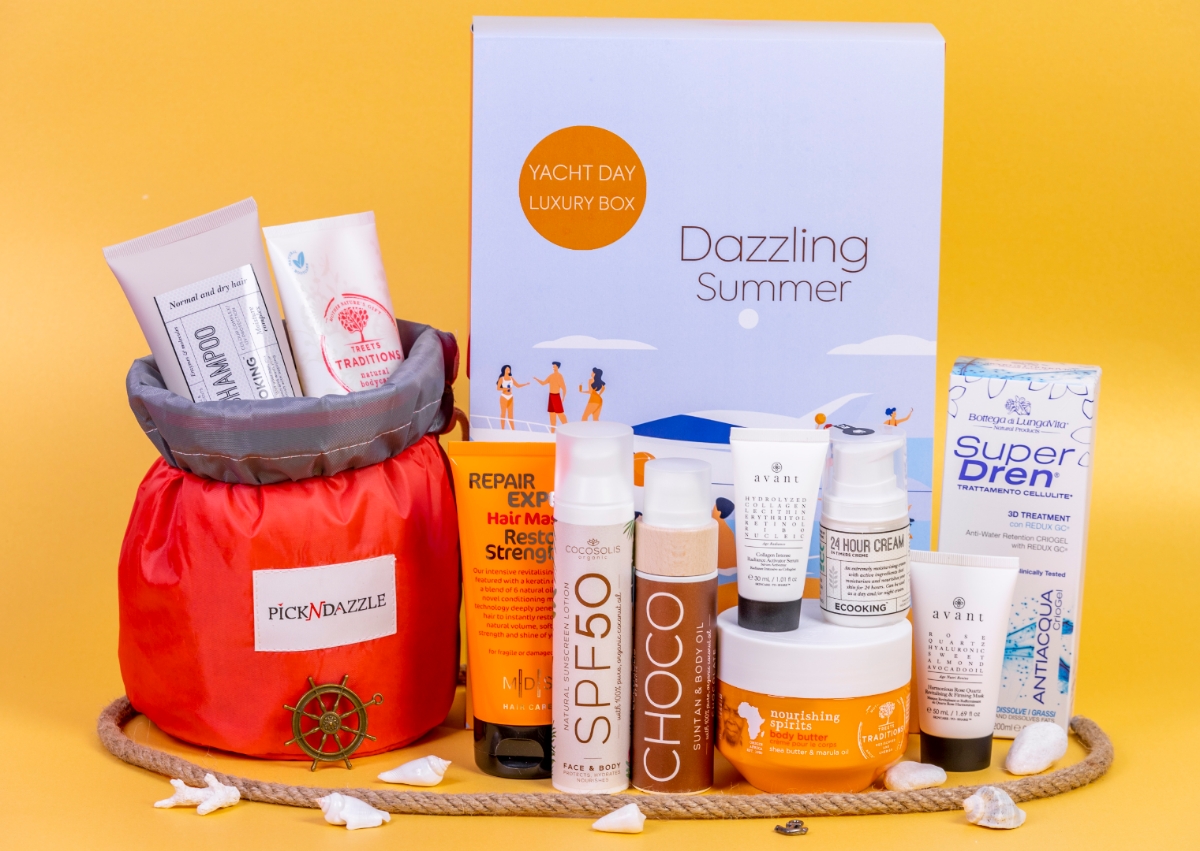 6. Apply aloe vera or green tea to soothe sunburns
In case you have a painful sunburn, here are some tips that can help you:
Remember to avoid sunlight until your skin has healed.
A cold shower or bath can help cool your skin.
Aloe vera has anti-inflammatory properties that can relieve redness due to sun exposure. It also contains ingredients that can help your skin heal.
Green tea also has ingredients that not only work as a sunscreen, but also reduce DNA damage due to sun exposure. In fact, topical application of green tea extracts has even been found to reduce the development of skin cancer cells. So applying a cool, damp bag of green tea to sunburned skin can help heal and soothe it.
We have included soothing shower gels in each box. Soap-free shower gels for soft and creamy cleansing of the body without drying the skin. Traditional Asian coconut oil is a natural solution to skin problems and Frangipani, red jasmine, has a cleansing effect and a pleasant aroma. Does not contain: SLS, SLES, parabens, silicones, dyes and mineral oils.
7. Exercise, move, walk.
In the summer sometimes we avoid active sports and walks because of the heat, but we prefer to lie on the beach. Lack of exercise and insufficient fluids, however, cause water retention because the body is in a state of stress and trying to maintain itself. This water leads not only to an increase in the number of scales for days, but also to a feeling of heaviness. Unfortunately, these deposits accumulate exactly where we do not want to.
That's why we have included SUPER DREN -ANTI-WATER CRYOGEL, which is quickly absorbed and has a cooling effect, which effectively fights water retention, stimulates microcirculation and removes excess fluids. Visibly improves the "orange" skin and gives tone and elasticity to the tissues. Its special formula, which is enriched with menthol, provides an immediate feeling of freshness.