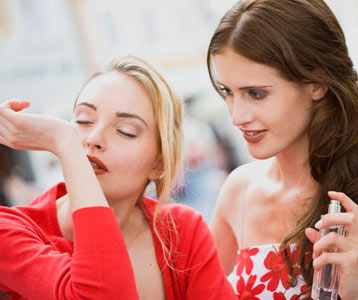 7 New Ways to Wear Perfume
Layering fragrances may sound complicated, but it's easier than you think -- if you know how to do it. Here are the tips that'll teach you how to wear perfume the new way.
Posted on 9/6/2015 6:12:11 PM
At least 1,000 new fragrances will come out this year. (To put that number into perspective, only 76 new scents were released in 1991.) With so many fragrances to choose from, you'd think that finding your ideal scent would be easier. But how many times have you smelled a perfume and wished it were a hint sweeter or a little lighter? Instead of sniffing thousands of scents in search of the perfect one (which sounds like a major headache -- literally!), wouldn't it be great if you knew how to wear the perfume you already have --better?

That's where layering fragrances comes in. In this case, we're not talking about mixing two perfumes, which experts say can be extremely tricky even for a trained nose. Instead, it's about incorporating the right scents into other aspects of your beauty routine to make your perfume work better for you. "Ideally, layering is about choosing a body wash and lotion that will help extend your scent throughout the day," says Franco Wright, co-owner of the Scent Bar in Los Angeles.
Start simple
One and two-note fragrances are ideal for layering, and they are becoming increasingly popular. So popular, in fact, that you probably already own at least one. "Simplicity makes fragrances more approachable," says Scent Bar co-owner Adam Eastwood. "They're unfussy and casual at the same time -- you don't have to think too much about it." Wright points out that vanilla, amber, or coconut-based scents are also easy to layer because these notes tend to go well with everything.

Understand your fragrance family
When choosing bath and body products to layer with your fragrance, there's one piece of advice that trumps all others: Choose products in the same fragrance family. "If you wear a gourmand scent, choose a gourmand body lotion and shower gel," says Wright. "And the same goes with citrus or floral."

To make things easy, you can always buy the ancillary products that go along with your favorite fragrance.
Use lotion to change your scent for the season
As the summer winds down, you may want to alter your signature scent for the cooler weather. "It's exciting to change your fragrance with the
season," says Wright. "As we head into fall, everyone gets excited to wear darker and more exotic fragrances." Rather than splurging on a new perfume, try adding amber to your regimen. "Amber is a friendly note that works well with others," says Eastwood. "It's warm and nuzzly -- ideal for nighttime or colder seasons." Look for amber in body products, which will give you a rich base and warm up your fragrance.
Think of shower gel as your foundation
While the scent of your body wash may not last very long, it does affect the way you wear perfume. "When you start with a shower gel, you get a nice scent on the skin right away," says Wright. Unless you're using a body wash that matches your fragrance exactly, start with a light, neutral scent, which is fresh and zesty with lime and green notes.
Keep your skin moisturized
Whether you opt for a fragrance-free version or you choose a body lotion that will enhance your perfume, moisturizing is extremely important. "The more moisturized you are, the longer a fragrance will last on your skin," says Wright. "Moisturizers use emollients that keep water molecules -- as well as fragrance molecules -- from evaporating."
Spritz your hair
Of course you want your hair to smell great, but your shampoo and conditioner can only do so much. Instead, try using your hair as an unexpected place to wear your favorite fragrance. "Hair is a great fragrance diffuser and probably the best spot to spray fragrance if you want to make an impression," says fragrance guru Frederic Malle. However, Malle warns that a fragrance that's high in alcohol can dry out your hair. Instead of using your regular perfume, Malle recommends fragrances that are designed specifically for the hair.
Don't worry about your deodorant
Wright and Eastwood say that most powdery, lightly-scented deodorants won't affect your fragrance. Therefore, our advice is to keep using whatworks, not necessarily what works with your perfume.
Source: www.totalbeauty.com
To get your monthly dose of happiness, beauty and surprise with the Pick N Dazzle box, simply create your Beauty Profile and head to our e-shop.