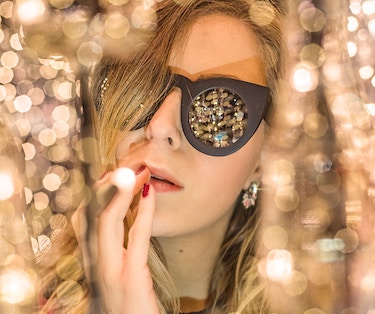 5 Tips that Will Make You Shine at Holiday Parties
Wherever you're headed for a celebration – from the office holiday party to a night out at New Year's – here are our top tips so you feel and look dazzling.
Posted on 12/7/2021 8:49:06 PM
It's the season – from the office holiday party to a night out with friends at New Year's, there are so many opportunities to have fun and shine.
Wherever you're headed for a celebration, here are our top tips so you feel and look dazzling.
1. Highlighter. One the most underestimated beauty products, highlighter is essential at Christmas and New Year's.
The holiday season is all about sparkle and glow. With a touch of highlighter on your cheekbones and brow bones, you'll capture the shine from all those Christmas lights – and from the disco ball, if you're on the dancefloor.
Choose a highlighter with a liquid or cream consistency if you're wearing liquid foundation, and one in powder form if you use compact foundation or a finishing powder.
As a rule, powder highlighters like Miss Cop's Sun Light Powder give a more intense sparkle and are even more festive.
2. Eyeshadow. Speaking of maximum glow, liquid metallic eyeshadow is the thing to wear at a holiday party.
There's gold and silver decoration all around us – Christmas tree ornaments, tinsel, ribbons. Metallic shine is in style this time of year.
Phase Zero's eyeshadows offer a deep copper colour with an intense shine. Apply it generously to your eyelids, and you'll light up the room with holiday cheer.
3. No-smudge lipstick. Food and drink are abundant at all gatherings this season.
Ideally, your lipstick won't smudge or wear off quickly as you enjoy home-cooked meals, hors d'oeuvres at parties, and, of course, champagne.
Choose a long-lasting matte lipstick that will take you through the night and look fresh no matter how late you choose to stay out.
4. A layered outfit. As you're planning your outfit, it's good to remember you're going out at the coldest time of year. Choose a pretty dress, and then add an extra layer under your coat.
The classic New Year's look is the short, sequined dress. It looks fabulous, and the more you dance, the brighter those sequins sparkle!
But what if you want to step outside with someone for a chat – or a kiss? And what if you're out in the cold in the early hours of the morning, trying to get a cab home?
A cashmere cardigan completes a luxurious winter party look. Pair a beige cardigan with a gold-coloured dress, or a grey one with a silver dress. You'll be prepared to party all night long.
5. Last but not least… water. Take this trick from experienced revellers: always alternate one alcoholic drink with one soft drink or, best of all, a glass of water.
Alcohol is a diuretic. If you keep drinking it throughout the night, it will dehydrate you, which can make you tired.
Dehydration is also one of the main causes of hangover headaches – not to mention the effect it will have on your skin.
There is an easy fix: drink plenty of water so you can stay in top form all night long.
Happy holidays to all our fabulous readers. Take care and have fun!
Your Pick N Dazzle beauty routine will be there for you the morning after, so you can feel refreshed and get 2022 off to a good start.