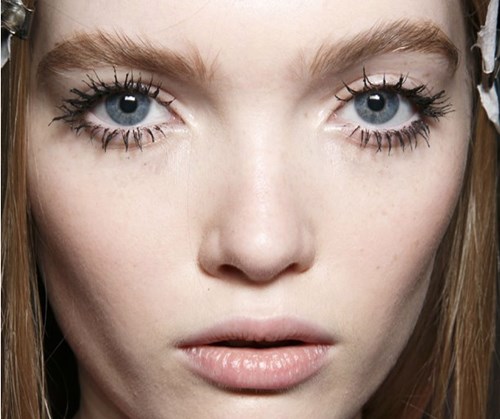 5 Reasons Why Your Mascara is Clumping
You spend so much time getting your eyelashes just right, then a clump comes out of nowhere and it's a surefire sign a bad day will follow. So what do you do? You prevent clumps from ever happening in the first place — with the tips below.
Posted on 6/6/2014 2:04:23 PM
1. It's Expired: When was the last time you changed your mascara? If you can't remember, it's probably been too long. Expired mascara gets dried out, plus bacteria gets into the formula, so you're not only putting old, dried mascara on your lashes — which causes clumping — but you're also putting your eyes at risk for a bacterial infection. Next time you get a new tube, write the date on the side of the mascara with a permanent marker. After six months, move on to a fresh mascara.
2. You're Using Too Much: Two coats of mascara is fine, but after that things can get a bit thick. Piling on the mascara puts you at a greater risk for clumps. If you start to see clumps as you're applying, you've likely reached the limit. Use a fine pin or a mascara comb to separate lashes and do some damage control on any clumps that may have happened.
3. You're Not Removing Properly at Night: Whether this means you're not using a waterproof eye makeup remover when you should be or you're not fully removing the mascara, any leftover, dried mascara left on your
lashes overnight will mean definite clumps when you go to apply over that in the morning. Be sure you're fully cleaning off your lashes before going to sleep to avoid thick mascara in the morning.

4. The Brush is Over-packed: When you pull the wand out of the tube to apply the mascara, clean off the excess from the mascara wand into the tube. Extra mascara on the wand simply means that you'll be piling on too much product at once, which always leads to clumps.
5. You're Not Wiggling: For the fullest, most beautiful lashes, place the wand underneath your top lashes at the root, and gently wiggle the wand as you begin to drag it upwards towards the tips of your lashes. This insures even distribution and full coverage of your lashes, so you'll be much less likely to get clumps.
Source: www.beautyhigh.com