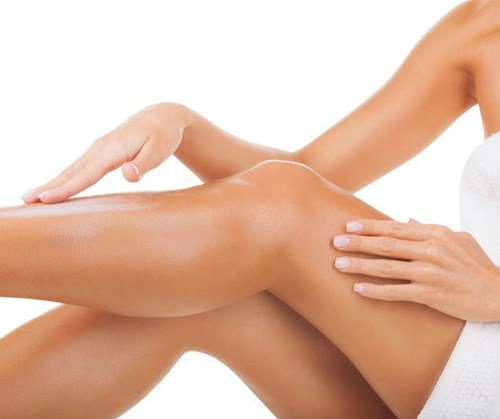 10 Things No One Ever Tells You About: Self Tanner
Just in case you're not a pro at the faux stuff, we have just a few tips and tricks up our sleeves for getting a faux glow down pat – so that everyone will think that you've been vacationing in the Greek Isles and not holed up in your apartment all winter.
Posted on 5/30/2014 7:21:36 PM
1. There are tons of different formulas to choose from: If you're not comfortable using a full on lotion (as opposed to a tinted formula) as a self tanner, don't. Faux tanners come in tons of different formulations, from mousse to spray to tanning wipes (our personal favorites to avoid errors). Find something that makes you comfortable, and stick with it. It always comes down to personal preference, which will help you avoid errors in the long-run.
2. Shave before you start: With anything in the beauty world, you want to start with a fresh base. That means shaving before you begin so the tanner can stick to your skin instead of all of those tiny hairs. Trust us, take the time to do the prep work, or you'll end up with errors that you're trying to wash away later.
3. Always, always exfoliate before: Like we mentioned above, you always want to prep. Exfoliation is the next step. This way, you'll buff away any dry skin that the tanner may stick to (instead of the skin you want it to stick to). Areas like your elbows and knees are the places that are most prone to turning orange because they are often so dry, so take extra care there.
4. Add a lightweight moisturizer all over: Don't go too heavy on the lotion or your self tanner actually will have more trouble sticking to your skin, but always add a lightweight moisturizer before you begin. We like using a light gel moisturizer so it will absorb into your skin quickly (and help to banish any dry patches).
5. Start at the bottom of your body and work up towards the top: Start at the bottom of your body so you can concentrate on your legs before working your way up to your arms and shoulders. This tends to help create an even balance, and you can work out the "kinks" before you get up to your chest area. If you need help getting your back, ask a friend!
6. Go lighter on your face – and use a different product if necessary: Always, always use caution when applying self tanner to your face. Most people like to go a little darker on their body and lighter on their face, and make sure your product is recommended for use on the face so as to not irritate the skin. Don't forget to apply your tanner to the neck, too!
7. Clean your hands quickly with soap and water: Once you've properly applied your tanner, quickly wash your hands with soap and water so your palms won't turn orange. Don't forget to scrub in between your fingers and knuckles, which are prone to darkening as well.
8. If you see splotches or dark areas, rub lemon on them: After a few minutes, if you see any streaky areas or dark spots, you can rub those areas with lemon and then lightly wipe away with a damp washcloth to lighten the spots.
9. Make sure to let your self tanner dry, and do not shower for 24 hours: Always wait the allotted amount of time before getting dressed (typically around 5-10 minutes) to let your self tanner set in. Don't shower for about 24 hours to help the look to last.
10. To help prolong your fake tan, keep your skin moisturized: Continue to moisturize your skin (this can be done with a heavier moisturizer than before) to help keep your fake tan throughout the week – this way your skin won't get dry or flaky and the tan won't naturally exfoliate away.
Source: www.beautyhigh.com