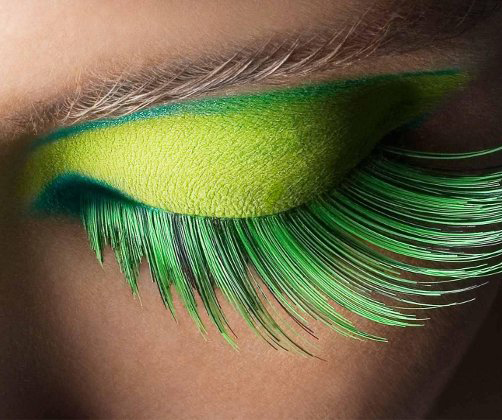 Organic makeup: 4 things you need to know
So there you are - dedicated to beautifying the green way, but confused where to start. Don't worry, because we're here to help!
Posted on 24.7.2014 г. 1:14:46
There's a slight chance that when you first started learning about organic cosmetics, you pictured butterflies alighting on organic rose petals magically ground into lipsticks. And yes, maybe it is like that – somewhere, in a pretty organic fantasyland. In reality, the world of organic cosmetics is much more like the wild, wild west. What to do, we hear you ask? Almost every expert we speak says the same thing – educate yourself. So here are some easy quick tips to get you started.
Tip 1: Don't be fooled by the product or the company's name. Words like "natural" and "organic" don't necessarily mean what you think.
Some companies put organic on their label or as part of their name, but this doesn't mean the product is actually organic. To be so, it would have to contain at least 95% of certified organic ingredients, which by the way would allow the manufacturer to use the organic seal. So keep in mind that organic could mean 100 percent organic, or it could just mean made with organic ingredients. And to make it more complicated, remember that natural is different from organic.
Tip 2: Cosmetics approved to be distributed in Europe at the moment tend to be safer than the ones that are only available in the US.
That's because when it comes to natural or organic cosmetics, the terms "natural" and "organic" have no legally defined meaning in the United States. If you encounter these terms when shopping for a product, ask the manufacturer how it defines "natural" and "organic." If the manufacturer claims that it sources organic ingredients for its products, ask whether these ingredients actually have organic certification.
Tip 3: Read the ingredient lists of everything you buy.
OK, now that we have a better idea of the landscape in which cosmetic companies operate, we think we are ready to talk about the ingredients themselves. It's a good idea to read the ingredient list of the product you want to buy. Even if you don't recognise all the ingredients, over time as you look each one up, you will get to know what to look for.
Look for parabens - listed as Methyl paraben, ethylparaben, isobutyl paraben. These are preservatives that mimic oestrogen in the body. They get absorbed and go straight into the blood stream. Watch out for formaldehyde releasing preservatives - these are not listed as formaldehyde but are listed as 2-bromo-2-nitropropane-1,2-Diol, Diazolidonyl Urea, Imidazolidinyl Urea and Sodium Hydroxymethylglycinate to name a few. Formaldehyde is a carcinogen. Avoid any ingredients with the prefix PEG, DEA - these can also be carcinogenic. Finally, steer clear of anything with BHA or BHT. These are synthetic antioxidants used instead of vitamin E and are carcinogenic.
Tip 4: Check if the label says "clinically tested", making sure it refers to the entire product, not just single ingredients.
You should also keep in mind that the terms "clinically tested" or "clinically proven" seem to be equivalent while actually they are not and therefore, cannot be used interchangeably. The claim "clinically tested" refers to the process or conditions under which the test on the product was carried out, meaning that the product was actually tested on human subjects under the supervision of professional experts. The claim "clinically proven" is considered to be more complex than "clinically tested". It has all above-mentioned features of the claim "clinically tested" while it also indicates that the product was tested and positive results were obtained.
And last, but not least - don't lose faith in organic beauty because there are still those trusted pioneers and beauty companies campaigning for green beauty who stick to their morals, Lady Lya, a favourite beauty brand, being one of them. Moreover, Pick N Dazzle is here to help. Our company is dedicated to find the best products in the cosmetic world and bring them to you. No false promises, no lies, no big words. Just the simple truth and the perfect brands that will suit your skin and hair type and fit like a glove! If you're curious to know more about our services, go to How It Works. If you stumbled upon a beauty brand that you find interesting and need someone to observe it thoroughly, ask us and will do the rest.