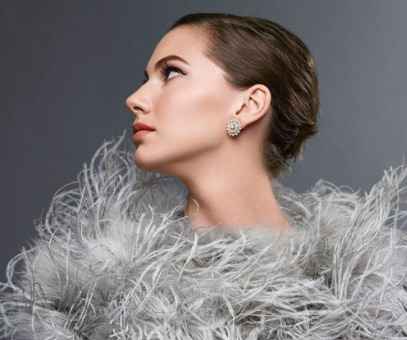 AUDREY HEPBURN'S GRANDDAUGHTER GETS 'BAZAAR' COVER
Emma Ferrer, the granddaughter of film and style icon Audrey Hepburn, poses for her first-ever photo shoot in the September issue of Harper's Bazaar.
Posted on 13.8.2014 г. 21:22:36
It seems that nepotism is making a huge comeback in fashion these days. A slew of celebrity and model siblings and offspring are capitalizing on the opportunities that come with having famous kin. Just ask Michael Avedon, grandson of legendary photographer Richard Avedon, who lensed the campaign for Calvin Klein's reissue collection — shooting Lottie Moss, younger half-sister of supermodel Kate Moss.
Michael has been tapped once again to shoot the famous relative of a fashion icon. Covering this month's Harper's Bazaar is Emma Ferrer, aka the granddaughter of Audrey Hepburn. And if you can't see the resemblance, a quick look at her unfairly thick and impeccably-shaped eyebrows might give you a clue. Of course, Emma is dressed in pieces that scream quintessential Audrey, including a head-to-toe black ensemble made up of trousers and a turtleneck. Emma also poses in a black and white
sculptural, checkered hat, a nod to her grandmother's famous April 1956 cover. The 20-year-old is heralded as the magazine's "New Funny Face".
Emma was born a year after Audrey died, but she still has trophies from her stylish grandmother, namely a few cashmere turtlenecks, which she adores and wears "all throughout the winter." I can think of a million girls who would kill to have those in their closet.
Audrey was Richard Avedon's muse, so it makes perfect sense that Bazaar chose both of their descendants to recreate some of the magic Audrey and the elder photographer had all those decades ago.
Source: harpersbazaar.com
Like this post? There's more. Get tons of beauty tips, tutorials, and news on the Pick N Dazzle Beauty Facebook page!