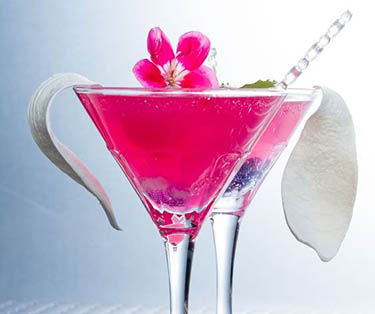 Don't let cellulite eclipse your sun-filled adventures this summer!
The Anti-cellulite 3D collection is the result of tones of scientific research...
Posted on 8.7.2016 г. 12:57:45
Do you know that moment in movies when a beautiful romance unfolds for the leading lady and then all of a sudden something unfortunate happens that crashes her back to reality; accompanied by the sound effect of an old audio tape slowing down, dragging the sound lower and slower until it comes to a complete halt and all our heroine's illusions have been stripped and beaten to the ground, with only their sad ashes settling around her in the air.
That's what happens when we put on our favourite swimming suit only to be faced with the harsh reality of cellulite, settled underneath the skin around our tights and buttocks. Sadly very few of us will say they can't relate to that experience. Luckily, we at Pick N Dazzle, have a good history of providing one of the best anti-cellulite treatments out there – Bottega di LungaVita's Super Dren 3D Anti-cellulite Treatment; hence the wealth of satisfied clientele!
Cellulite is the weakening and loosening of fat within the connective tissue of the skin that appears as dimpling. According to dermatologist, between 80% and 90% of women get cellulite after puberty!
Anyone can get it regardless of how thin they are, how often they exercise and hot healthy their diet is! It almost seems like part of the gig of being a woman. Of course it's nothing scary but it sure can ruin your confidence.
There's a myriad of anti-cellulite products on the market but very few of them meet the high expectations that their advertising labels set. Bottega di LungaVita is not one of them!
The Anti-cellulite 3D collection is the result of tones of scientific research and has proved its effectiveness amongst its many happy customers.
However, you must remember that consistence, persistence and patience are important. Visible results won't come in a week but as long as you follow the regime of everyday application, you won't have to wait too long!
Here's a selection of products to start you of:
Super Dren – Cellulite Cream with AHAs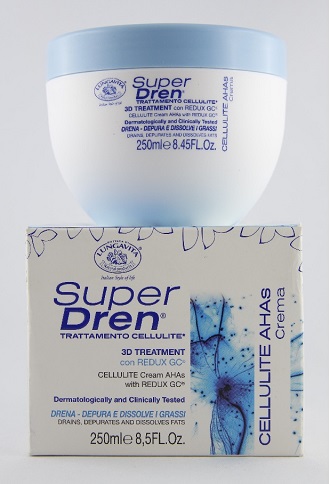 This is nature on a very successful date with technology! This huge 250 ml pot is filled with the right balance of natural ingredients and alpha-hydroxy acids (AHAs). The natural ingredients have lipolytic properties, which means they can break down fats; and the AHAs are famed for their exfoliating properties.
AHAs penetrate the skin and cause the dead cells of the epidermis to separate and shed, stimulating the growth of new cells. Long-term generous use visibly tones and smooths the skin!
Super Dren – Remodelling Mud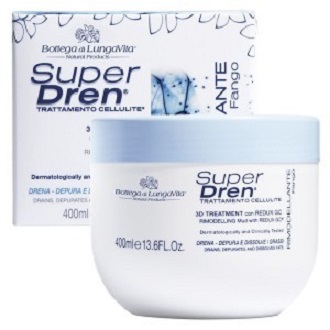 Now this is a must-have exotic cocktail from nature!
The mysterious healing powers of clay go all the way back to ancient Egypt! It has antioxidant properties and contains essential elements that heal and nourish.
The Ivy extract and Butcher's Broom improve blood circulation, which aids regeneration, nourishment and effective metabolical processes. Gota Kola is famous for its wound-healing properties and stimulates the production of collagen; it is listen among the "miracle elixirs of life" in Chinese medicine.
Apply this twice a week and leave on for ten minutes and watch as your body transforms!
Super Dren – Nighttime Concentrate in phials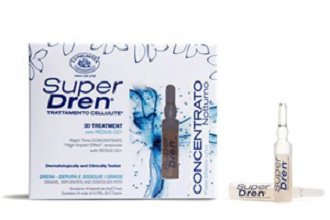 The natural active ingredients in these phials attack fat deposits with their almighty thermogenic action! This means they burn the unwanted fats and reduce their action.
This is recommended for use alongside the Cellulite Cream with AHAs! For best results, massage the skin with the cream and follow with a phial. Apply the concentrate topically on the unwanted fatty deposits, before sleep, for 14 consecutive days.
Do you want to be a beach goddess this summer? Captivating and memorising in your most subtle yet rather revealing and seductive attire?
Have you been gathering a collection of playful skirts and swimming suits all winter long; daydreaming about the hot months when you'd get to wear them and live out your fantasies of femininity, romance, empowering confidence and endless idle days in the sun? Well the time is now!
Awaken your sensuality and liberate your spirits and go head first into your summer adventures! Stay tuned for more and in the meantime hop over to our Beauty Profile.