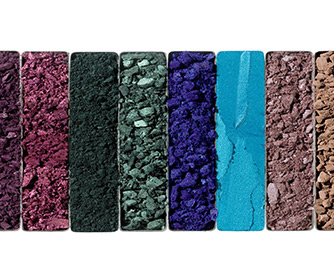 6 Unexpected Ways to Use Eye Shadow
We've rounded up six ways you could be stepping up your eye-shadow game, because there's no need to restrict its fabulousness to an area the size of a postage stamp. Prepare to be amazed.
Posted on 14.8.2014 г. 6:28:08
Effortless eyeliner. This may seem like a no-brainer, but it doesn't matter if you want a bold, sharp line or a smudgier, hazier look—your good old eye shadow can play the part of eyeliner. Bonus: This is especially handy if you're traveling and don't want to worry about packing a pencil sharpener. For a stronger look, dip a damp, fine-pointed brush in a dark shadow, and apply as close to the lash line as possible. Make your line as thick or as thin as you like; feel free to get creative.
Brow enhancer. You don't have to buy a fancy pencil or gel to give your brows a boost. In fact, using a powder shadow on your brows can look much more natural (you can blend away any harsh lines or excess color). Fill in your arches using a stiff, angled brush and a matte shadow the color of your brows. Blend out with a spooley brush to soften the appearance of your arches.
Undereye concealer. If your dark circles can't be tamed with just your average drugstore concealer, try using a matte orange powder or cream shadow underneath. It may sound crazy, but if you think back to middle-school art class, orange is opposite shade of blue on the color wheel, which means that mixed together, the two will cancel each other out. After covering up those circles, apply foundation on top to hide any traces of orange.
Bronzer. If you don't feel like making an investment in a true bronzer, use eye shadow instead. Cream, powder, shimmer, matte—it's all good. Just use a color that has a yellow, orange, or red undertone like a true bronzer to avoid looking washed out. If you're using a cream formula, avoid looking like you got hit by a glitter bomb by mixing a little bit of moisturizer with the shade before applying with your fingertips. For a powder shadow, apply with a big, fluffy brush and buff out any excess sparkle with your regular loose powder.
Contour. Before we bought an actual contouring kit, we used eye shadow for this (as many makeup artists do). Use a color two shades darker than your natural skin tone, and blend away.
Hair-color touch-up. Maybe you're hoping to even out your hairline, would like a bolder widow's peak, or want to fill in your part so your self-tanner isn't as apparent. You can accomplish all these things with a matte eye shadow that matches your hair color. Use an eye-shadow brush to apply the powder formula of your choice to your scalp; try a fluffier brush for your part, but one with firmer bristles for your hairline.
Source: www.allure.com
Like this post? There's more. Get tons of beauty tips, tutorials, and news on www.pickndazzle.com!