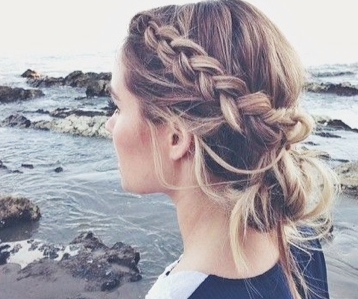 5 Hairstyles For The Lazy Days To Try Out This Summer
We're talking about those lazy days, be them Sundays or Mondays, that don't beg for fancy hair do's, nor tens of minutes to be spent in front of the mirror. But a lazy day doesn't necessarily involve letting go of all things designed to make you feel pretty, not when an under 5 minute hairstyle is there to save the moment.
Posted on 27.7.2014 г. 10:23:41
As a result, we've gathered five such easy and quick hairstyles for you to try during the lazy days of summer. Here are them all:
Lazy Day French Braid Hairstyle.
Completely heatless, quick and easy, this french braid hairstyle looks great on natural hair and it is meant to make you feel pretty, without looking the tiniest bit lazy.
Messy Side Twist.
A messy twist is an easy and much quicker replacement for a side braid, looking equally beautiful, a little disheveled and plenty effortless, a style just perfect for summer.
Rolled Updo with a Scarf.
A hair scarf or a hair band, and a couple of minutes is all it takes to recreate this fantastic summer updo to be worn anytime you're feeling lazy, or you're in a hurry.
Mini Crown Braid.
A textured crown braid and some loose waves make for a beautiful hairstyles, one made even