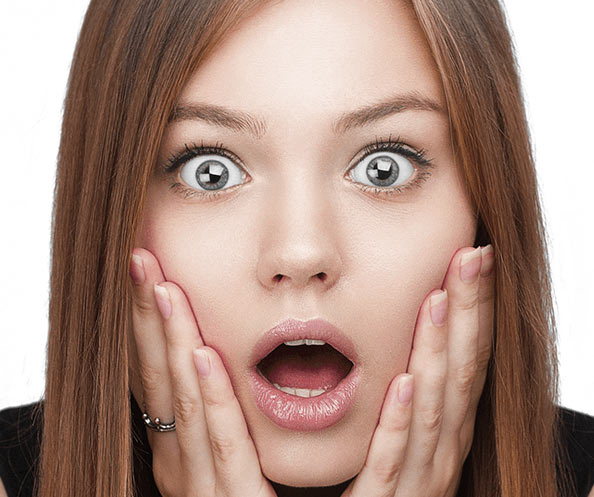 5 Common Beauty Mistakes & How to Fix Them
A little birdy told us that some of you are STILL guilty of these beauty blunders, and the madness needs to stop! Here's what you need to do (and not do!).
Posted on 14.6.2015 г. 14:30:27
1. Not washing your makeup brushes. Seriously? Are you still guilty of this? You've read all of the warnings and heard the bacteria-filled horror stories, and yet, you still wash your brushes once in a blue moon. If the idea of bacteria buildup doesn't scare your straight, then maybe an infection will — or at least a surprise pimple that could have been avoided. To prevent the collection of dirt, oil and plenty of other gunk that lurks on your brushes, wash them once a week with a gentle cleansing soap or even your basic dishwashing soap. Let's be honest, it only takes a few minutes and this simple task can prevent a world of beauty trouble.
2. Using a concealer that's too light. You want to "brighten" up your under eye area — we get it. But, doing so doesn't mean you need to emulate the "reverse raccoon" look. That's because concealer should be as close to your natural skin tone as possible in order to blend properly. Using one that's too light will actually draw more attention to any issues you're trying to cover up! Looking to conceal, brighten and highlight in one?
3. Wearing a foundation that doesn't match your skin tone. Foundation is meant to blend in with your complexion for smooth and natural coverage. What it's not meant to do is make you look "tan" because it's too dark — that's what bronzer is for! Instead of just
picking up a bottle that looks about right, have an expert at the makeup counter perform a "color match" test to find the perfect shade — not only keeping your skin tone in mind, but your undertones as well!
4. Curling your lashes after applying mascara. We've heard it go both ways — but if you want to keep your lashes clump-free (and well, just to keep your lashes), curling should be done before applying your go-to mascara. Curling afterwards will cause them to stick, clump and not just that … but also to weaken and break over time, too. And we know how important lashes are to you, ladies! If seriously sculpted lashes are your thing, curl first and then use a mascara that's specifically formulated to facilitate extra curl!
5. Making too many makeup statements at once. Wearing an entire palette on your eyelids AND a statement lip? Too much. Less really is more when it comes to making a true statement. Or as the kids say these days, do less … If a bold lip look is what you're in the mood for, then keep your shadow shades light and on the neutral side. If a smoldering smoky eye is your thing, then opt in for a pretty nude lippie. There's no logical reason for accentuating EVERY feature (à la Mimi of The Drew Carey Show) — make one really stand out and let the rest speak for itself!
Source: www.makeup.com