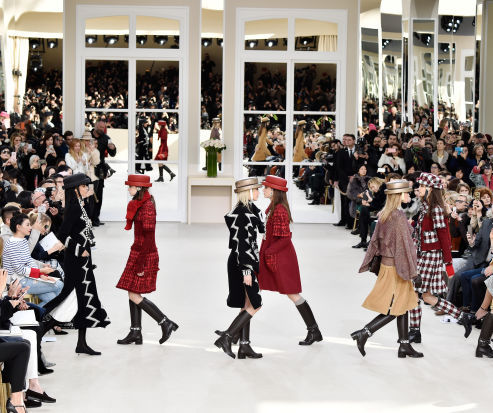 Cele Mai Cautate Companii de Moda pentru care sa Lucrezi
Conform sondajelor in Social Media si printre Studenti
Posted on 10.05.2016 18:56:38
WWD a prezentat lista celor 25 de locuri cele mai dorite in moda pentru care oricine si-ar dori sa lucreze. Acestea au fost alese dintr-o lista de peste 200 de designeri, branduri si companii existente in raspunsurile a doua sondaje separate.
Pentru a determina companiile cele mai dorite, WWD a realizat un sondaj in social media pe Facebook, Twitter și LinkedIn, la care s-au adaugat raspunsurile studentilor care studiaza moda in SUA si Europa, precum: The Fashion Institute of Technology, Savannah College of Art and Design, LIM College, Pratt Institute si London College of Fashion. Au existat mai mult de 2000 de raspunsuri in sondajul din social media si 405 studenti.
In ambele sondaje, Chanel a fost numita compania cea mai dorita pentru care sa lucrezi. Aceasta a fost urmata de Louis Vuitton. Pe locul al treilea este Christian Dior, urmat de Alexander Wang, Diane von Furstenberg, Kate Spade, Marc Jacobs, H&M si Prada in sondajul social media. In sondajul efectuat printre studenti, Christian Dior, H&M, Burberry si Prada au fost inlocuite de Calvin Klein, Salvatore Ferragamo, Michael Kors si Armani.
In raspunsurile din interviurile unu la unu, WWD a remarcat faptul ca multi participanti au fost "extrem de emotionali si pasionati, dar si precauti", in raspunsurile lor,
folosind cuvinte ca "iconic","de vis" si "uimitor". Compania castigatoare a jucat de asemenea un rol foarte important, atat datorita practicilor de sustinere a mediului cat si datorita mediului de lucru si a oportunitatilor de avansare in cadrul companiei.
Arunca o privire la lista de mai jos, vezi top 10 si intra pe WWD pentru a vedea lista completa:
1. Chanel
2. Louis Vuitton
3. Christian Dior
4. Alexander Wang
5. Diane von Furstenberg
6. Kate Spade
7. Marc Jacobs
8. H&M
9. Burberry
10. Prada
Pentru a fi mereu informata despre cele mai noi tendinte in moda si frumusete, aboneaza-te la Newsletter si alatura-te comunitatii noastre completand Profilul de Frumusete. Cand ai nevoie de produse cosmetice special potrivite tie, la un pret convenabil, mergi la magazinul nostru si selecteaza Cutia dorita.